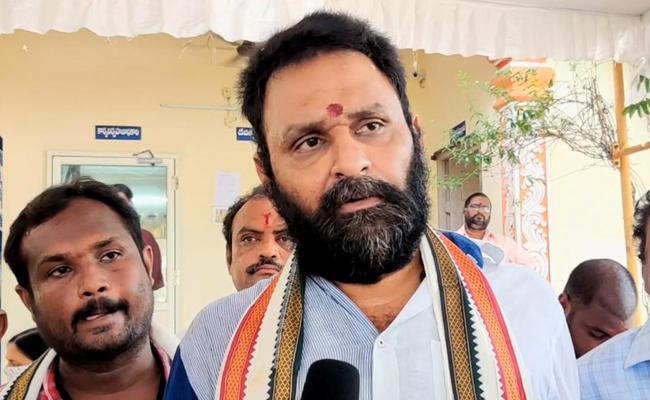 Known for his harsh language and pungent comments, YSR Congress party legislator from Gudivada and former minister Kodali Venkateshwar Rao alias Nani on Thursday came down heavily on Jana Sena Party president and actor Pawan Kalyan on the Tuesday's violence at Amalapuram on renaming of Konaseema district.
"Pawan Kalyan is a sannasi, who has no knowledge about the Constitution of India. He is trying to gain political mileage by instigating nicker-wearing kids on unwarranted issues," Kodali alleged, while speaking to media after participating in Gadapa Gadapaku Prabhutvam programme in Lingavaram village.
"He can only read scripts written by somebody else. If such persons without any knowledge about the Constitution come into politics, they will only create havoc in the state," he said.
He wondered with what understanding Pawan Kalyan was questioning the government's decision to rename Konaseema after Ambedkar.
"If you ask me, such fellows who have opposed Ambedkar's name for Konaseema should be sent to banished from the country or sent to jail," Kodali said.
On the allegation that the police had failed to prevent the burning of state minister Pinipe Vishwaroop's house at Amalapuram, the former minister said the police were concentrating on preventing the attacks on the lives of the people.
"We are more worried about the people, not the minister or MLA's houses," he said.
Stating that all the Jana Sena Party workers were just kids, Kodali asked their parents from falling prey to the leaders who had secret understanding.
"The situation would have been brought under control immediately, had the police opened fire on the mob. But after that Naidu and his adopted son would have come to Amalapuram and played politics by bearing the palls of those who are killed in firing," he said.