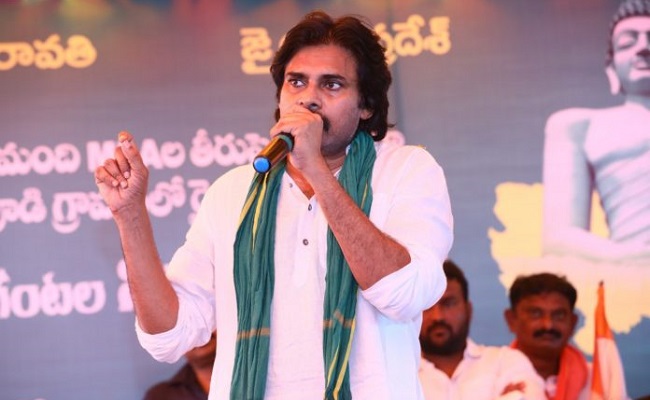 Coming out of his shell at last, Jana Sena Party chief and power star Pawan Kalyan has decided to take a plunge into direct action in support of agitating farmers of Amaravati, the present capital city of Andhra Pradesh.
The political affairs committee of Jana Sena which met in Hyderabad on Tuesday decided to hold a massive public meeting in the name of "Jana Bheri" at Rayapudi in Amaravati on December 17 in support of the farmers' demand for retaining Amaravati as the state capital.
Apparently, the party has decided to go ahead with the programme independently without taking the support of its political ally Bharatiya Janata Party. In fact, the issue of consulting the BJP and waiting for its consent has not come up at the PAC meeting of Jana Sena.
The Jana Sena Party, however, has decided to mobilise farmers and leaders of various parties for the public meeting to be held on December 17, which marks one year of the announcement of three capitals plan by YSR Congress party president and chief minister Y S Jagan Mohan Reddy.
Interestingly, it is on the same day that the Amaravati Parirakshana Samithi Joint Action Committee has planned a massive public meeting at Uddandarayunipalem village, where Prime Minister Narendra Modi had laid foundation stone for the capital city in October, 2015.
The JAC also planned protest rallies at all collectorates and tehsildar offices across the state opposing the three capitals plan.
It remains to be seen whether Pawan Kalyan would join these agitation programmes as well or go with his own plan of action.