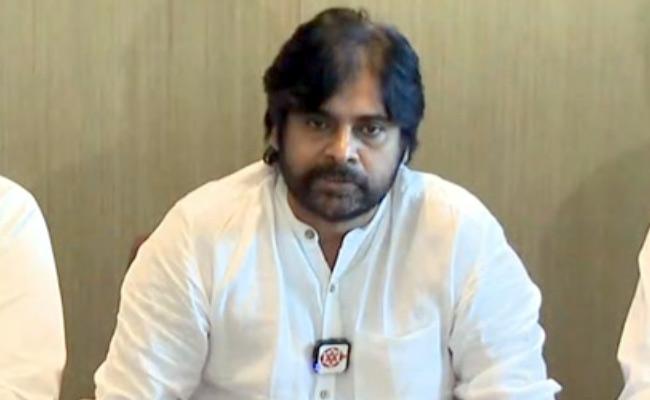 Actor-politician Pawan Kalyan on Thursday indicated that he has the ambition to become the chief minister of Andhra Pradesh.
Citing the example of Karnataka where JD-S leader H.D. Kumaraswamy became chief minister by winning only 30 assembly seats, the Jana Sena Party (JSP) leader stated that if people had given him 40 seats in 2019, he too would have demanded chief minister's post.
Talking to reporters at the JSP office in Mangalagiri here, the actor-politician remarked that if he wants to become the chief minister, he will not hesitate to say so.
He made it clear that he will not ask Telugu Desam Party (TDP) or Bharatiya Janata Party (BJP) to make him the chief minister. "I will show my strength and ask," he added.
Pawan's party, which had an alliance with the Left parties and Bahujan Samaj Party (BSP) in the 2019 elections, could win just one seat in the 175-member Assembly. The actor himself lost both the seats he had contested.
He made it clear on Thursday that the JSP is looking for alliance with major parties to end the rule of YSR Congress Party (YSRCP).
Stating that many political parties emerged stronger with alliances, he said the JSP was also looking to have alliances with major parties to prevent the split of anti-incumbency votes in the next elections.
Pawan said he respects the Communist parties but would discuss alliances, keeping in view those parties who can influence the elections.
The JSP is already in alliance with the BJP and it is keen to forge a grand alliance by roping in TDP, the main opposition party in the state assembly. Pawan recently held a series of meetings with TDP president and former chief minister N. Chandrababu Naidu.
Pawan said he had an alliance with BJP and TDP in 2014 after detailed analysis of the then prevailing situation. The actor said JSP will take a decision on alliances keeping in view only the state's interests.
He claimed that the JSP's position has strengthened compared to the past. He recalled that in 2019, JSP contested 137 assembly seats (out of total 175) and secured 7 per cent votes. He said in some constituencies, the party polled 20-30 per cent votes.
Pawan said if elections are advanced, he will begin the field work from June. He also remarked that he will be happy if strong parties come with him to check the YSRCP.