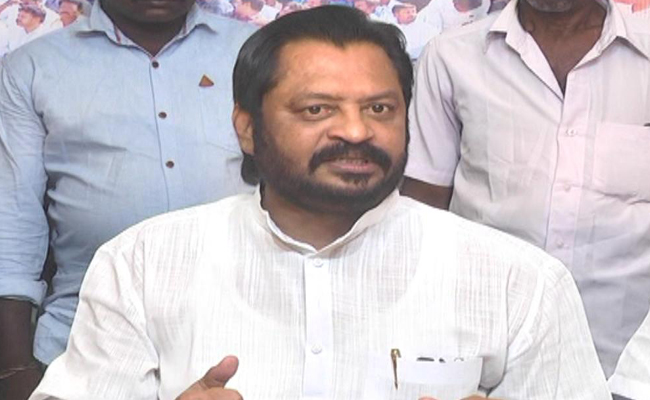 It has been just a year since former Amalapuram MP G V Harsha Kumar quit the Telugu Desam Party and returned to his parent party, the Congress, to fight against the Y S Jagan Mohan Reddy government in Andhra Pradesh.
Now, this Dalit leader has suspects that there is a systematic attempt to wipe out the TDP from the state politics, as was done in the case of the Congress party, so that there will be no strong opposition in the state.
On Monday, Harsha Kumar alleged that Jana Sena Party chief and actor Pawan Kalyan, had colluded with his alliance partner BJP and YSRCP president Jagan Mohan Reddy to eliminate the TDP from the state political scenario.
"Till the other day, Pawan was claiming that he was against caste politics and all castes were equal to him. Now, he is speaking in the tone of promoting his Kapu caste and instigating them against other castes. It appears there is a large scale conspiracy to divide the people on caste lines," he told media persons at Rajahmundry.
He said Pawan Kalyan, Jagan Mohan Reddy and the BJP were conspiring to see that the TDP is wiped out as the principal opposition.
"It is clearly evident from the way the Jagan government allowed Pawan to hold a rally in Rajahmundry, after denying him permission to repair roads. In a systematic way, Jagan is deliberately creating a hype for Pawan, knowing fully well that Jana Sena workers will get agitated," he said.
The former MP said if Pawan had sincerity, he should stay put in East Godavari district for 10 days and repair the roads, instead of resorting to tokenism.
Harsha Kumar, who had been with the Congress party for a long time, jumped into the TDP just before the 2019 general elections.
He, however, failed to get the TDP ticket from Amalapuram. After the loss of the TDP in the elections, Harsha Kumar had been keeping away from TDP activities, before returning to the Congress in October last year.