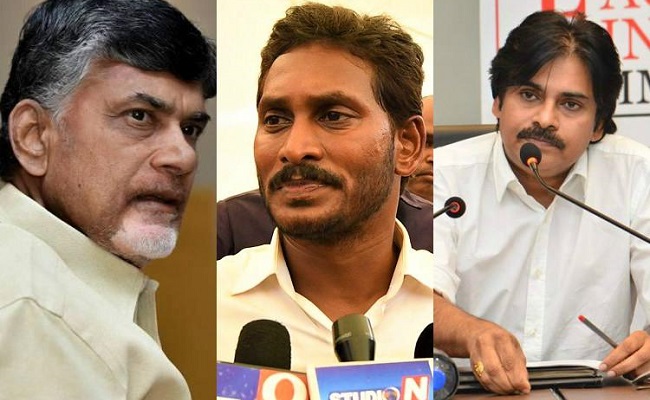 As the literacy rate is increasing among the people, the indecency is also shooting up.
Many feel that gone are those days where the politicians used to maintain decency and decorum.
Now, those politicians who can vehemently attack the opponents with the filthy language are pulling the attention of the people. Pity is that the people are also enjoying the free entertainment provided by these unscrupulous politicians.
Today we have seen TDP leader Pattabhi who used the word like 'bhosdi ke' while addressing the Chief Minister and a top police cop. Does he know the literal meaning of this? Is this the culture of the leader of a party that boasts itself as a torchbearer of Telugu culture and 'heritage'? His words are utterly condemnable and the guys like him deserve all sorts of criticism.
Chandrababu Naidu, the man who boasts his long tenure in politics also uses the words like 'thaata teesta'. As the Latin adage says- "Qualis rex, talis grex", the TDP leaders are also following their head in using unparliamentary language.
Lokesh is another so called politician who attempts to give warnings with some harsh words like 'moorkhapu Reddy', 'Faction Reddy' and 'Psycho Reddy'. It will be surprising to know that he a graduate from an American University.
Pawan Kalyan also is a classic example for the sick politician who uses words of an illiterate like 'sannasi','panchelu ooda teesi kodata' etc. He doesn't know the difference between a movie camera and a media camera. He believes in delivering performance in the way he knows with the worst words. His fans are equally cultureless to clap to his illiterate words.
Next comes the ruling Minister Kodali Nani who calls Chandrababu and his son Lokesh with the most demeaning words. He also coined the names Lavangam Naidu, Kissmiss Naidu etc while talking about the ancestors of Chandrababu. They may be entertaining to a section and heart burning to others but the way he talks cannot be welcomed by the people who like decency.
As on now it was only YS Jagan Mohan Reddy who is decent among the main politicians of Andhra Pradesh. He never uses cusswords while criticizing the opponents. But still he could win the hearts of the people.
So, the days of decency are not gone. The politicians should come out from the opinion that they can attract the attention of the masses with their cusswords. Gentlemen and rogues can be differentiated with the language they use in public.
Krishna Mohan Ajjarapu