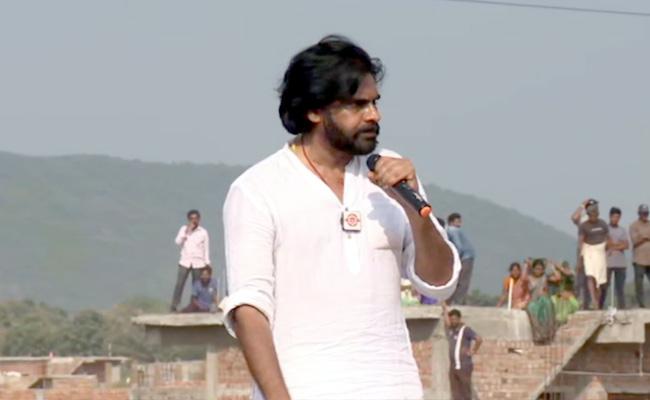 Before 2019 elections, YSR Congress party chief and then opposition leader Y S Jagan Mohan Reddy went into the people with several slogans, designed by his political strategist Prashant Kishore.
Some of the slogans include: "Bye Bye Babu," " Raavali Jagan, Kaavali Jagan," "Nenu Unnanu, Nenu Vinnanu," and "One Chance Please."
The people who were already fed up with the Telugu Desam Party government led by N Chandrababu Naidu were attracted by these innovative slogans.
Particularly, the slogan "Once Chance Please" had a deep impact on the electorate. Since Jagan had never been a minister and was a fresh face, the people thought of giving him a chance to rule the state to see whether he would be able to deliver a better governance.
Now, the same slogan has been picked up by power star and Jana Sena Party president Pawan Kalyan.
He has started appealing to the people, wherever he is going, to give him a chance and see the difference in governance.
During his visit to Vizianagaram on November 14 to inspect the Jagananna Housing Colonies scheme, Pawan Kalyan came out openly asking the people to give him just one chance to rule the state.
"In the next elections, please give me one chance. I am not asking this chance not for my sake, but for your own future and that of your children. I will show you what a corruption-free government will be like," he said.
The Jana Sena Party has quickly picked up Pawan's "One Chance" slogan and has been making it viral. It is now spreading fast among the people, as the party is asking them to give him a chance to find the difference.
While many of the fans of Pawan Kalyan are appreciating his appeal to the people, some of them are not happy.
"This slogan looks like begging the people to vote for Jana Sena. It can be redesigned to make it more dignified appeal," a Jana Sena worker said.
He suggested that "My assurance to your future," will be more apt slogan.
Some other suggestive slogans are: "Only Pawan can change AP's destiny," "Raavali Pawan, Maarali Palana," "Inko Aalochana Voddu, Jana Sena Ke Guddu" and "Okka Chance Iddam, Jana Sena Prabhutvam Teddaam."
Let us see which slogan of Pawan will make more appeal on the people.