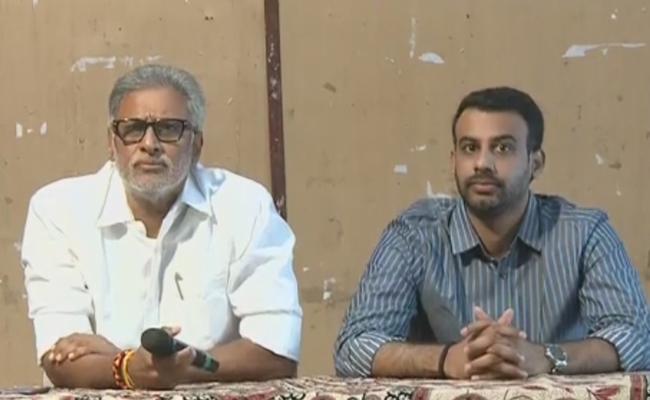 Telugu Desam Party president and former Andhra Pradesh chief minister N Chandrababu Naidu is understood to have put an end to speculations over giving the party ticket for Chirala assembly constituency in Prakasam district to Daggubati Hitesh in the next assembly elections.
Hitesh is the son of his co-brother-in-law and former minister Daggubati Venkateshwara Rao and former Union minister Daggubati Purandeshwari. He unsuccessfully tried for the YSR Congress party ticket in 2019 assembly elections from Parchuru.
Naidu made it clear to the TDP leaders from Chirala during a review of the party from the constituency on Thursday, when they asked him about the speculations over the possibility of Hitesh being offered the party ticket.
He declared that senior party leader Madduluri Mala Kondaiah, who was appointed as the TDP in-charge of Chirala, would be the party candidate from the constituency in the next elections.
The TDP chief, however, did not rule out the possibility of Hitesh joining the party.
"There may be people from other parties joining the TDP, but they will have to work for the victory of Kondaiah only," he said.
He dismissed the rumours in the party that influential leaders from other parties would be given the party tickets in the next elections.
"Preference would be given only to those who have been working hard for the party," Naidu told them.
At the same time, the TDP president also made it clear that all those who had been appointed as party in-charges of various constituencies cannot take it for granted that they would be given the tickets for assembly elections.
"Not all constituency in-charges will get the party tickets. It depends on their performance in the coming months. They cannot claim right over the party tickets in their respective constituencies," he asserted.
Naidu has also been requesting the party seniors to cooperate with him in the selection of candidates. He said he was committed to giving 40 percent of the party tickets to youth. If there are any eligible leaders among the children of the seniors, they would be given preference, he said.
As reported, Chirala constituency is presently represented by Karanam Balaram, who won on the TDP ticket but defected to the YSRC after Jagan Mohan Reddy came to power. There was a talk that Hitesh is interested in joining the TDP and contesting from Chirala.
In fact, Daggubati represented Parchuru in the past and he lost to TDP's Eluru Sambasiva Rao. Since Naidu announced that he would give tickets to all the sitting MLAs, Sambasiva Rao will be contesting the elections again.
So, the chances of Daggubati Hitesh aspiring for the party ticket from Parchuru are now closed, even if he joins the TDP now. That is why there were speculations that Daggubati family is lobbying for Chirala ticket to Hitesh.