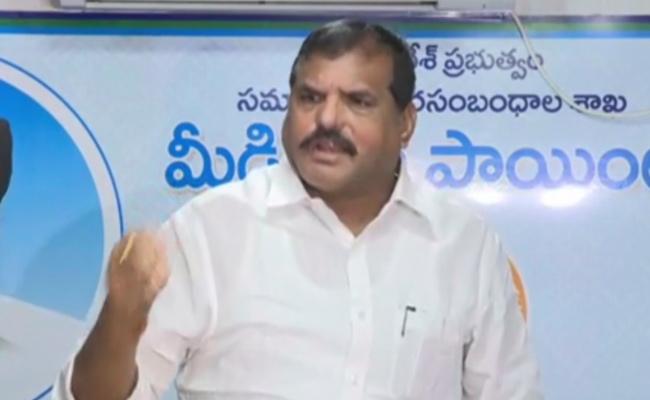 Senior YSR Congress party leader and Andhra Pradesh education minister Botsa Satyanarayana on Saturday described Telugu Desam Party president and former chief minister N Chandrababu Naidu as the "most useless" politician the country had ever seen.
Botsa was reacting strongly to Naidu's comments at his Cheepurupalli road show, describing the former as a "liquor don" and wondering how a person who knew only how to run liquor business was made the education minister by chief minister Y S Jagan Mohan Reddy.
Giving a strong counter to Naidu, Botsa said if at all there was any useless fellow in politics in the country, it was the TDP president.
"He owns the patent for useless politics. Everybody knows how you had acted as a pimp and licked the arm pits of how many people to safeguard your power," he said using the strongest words.
Referring to Naidu's comments that agreement with education portal Byju's by the state government was nothing but Jagan's juice, the education minister wondered whether the TDP chief had any knowledge about Byju's portal.
"How dare you ridicule the agreement with Byju's? Do you think it is the juice available in Heritage Foods? While your children and grandchildren can read English medium, you don't want the poor people's children to study in English medium," he criticised.
Botsa challenged Naidu to prove if the MoU with Byju's was wrong. He said 35 lakh students studying from 4th -8th class would be benefitted by the MoU with Byju's and added that the state government would be spending Rs 20,000 per each student for Byju's app.
The Minister said the state government has signed MoU with Byju's to increase the standards of education, improve English language proficiency, make them speak English fluently and cope up with CBSE syllabus.
Stating that Naidu had lost his mental balance as he was forced to sit idle, Botsa ridiculed the TDP chief for talking about social justice speaking at Vizianagaram district.
"Are you ready for a debate how much social justice you have done and we have done?" he asked.
He claimed that Visakhapatnam had been developed by former chief minister Y S Rajasekhar Reddy and Naidu had done nothing for the district.
"When the Jagan government was distributing money to the students for their education, Naidu is making rubbish comments. Jagan is doing what he has said before the elections, unlike you," he criticised.
At the Cheepurupalli meeting, Naidu said Botsa should be given Padmashree or Padma Bhushan for blaming parents for the massive failure of 10th class students this year.
"Jagan boasted of Nadu Nedu. What happened to Amma Vodi? Still the students have failed. There are no scholarships and no Videsi Vidya. No Annaa Canteens. No Chandranna Beema. All are gone. Everything is gone in just three years," he criticised.