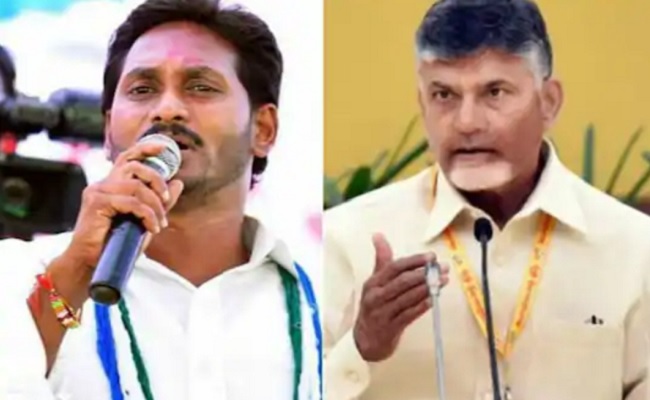 Telugu Desam Party president and former chief minister N Chandrababu Naidu is one of the senior-most politicians in the country.
Having been holding the responsibility of building up the party since 1983 and heading the party for over two and a half decades, he had huge experience in establishing the organisational network.
There was a talk that Naidu recognises each and every leader from mandal-level to state-level in the party. Yet, he has been struggling to constitute his party committees for the last one year.
According to sources, Naidu is said to be following the strategy adopted by his political rival YSR Congress party president Y S Jagan Mohan Reddy in building the party organisation before the 2019 elections.
Apparently, Jagan had followed the suggestions given by his political strategist Prashant Kishor of Indian Political Action Committee (I-PAC) who reportedly suggested to him to appoint party committees at the parliamentary constituency level, rather than district-level, so that they could have grip over a limited number of assembly segments falling within their constituencies.
Now, the TDP chief is also following the same plan of action. So, instead of appointing party committees for 10 districts, he has recently appointed committees for 25 parliamentary constituencies.
May be he, too, followed the advice given by his political strategist Robin Sharma, who had earlier worked with Prashant Kishor.
However, Naidu decided to constitute a state-level committee for the TDP. Amidst contradictory reports, he is learnt to have finalised Kinjarapu Atchan Naidu as the president of Andhra TDP, ending confusion among the party cadres.
Senior TDP leader and MLC Bida Ravichandra Yadav, whose name was also tipped for the TDP state president post, is likely to be appointed as the general secretary of the party.
He would also take care of the coordination of various frontal organisations of the party.
Former minister Kollu Ravindra is also going to be inducted into the state committee. Present state TDP chief Kala Venkat Rao will be taken into the party's politburo, sources said.