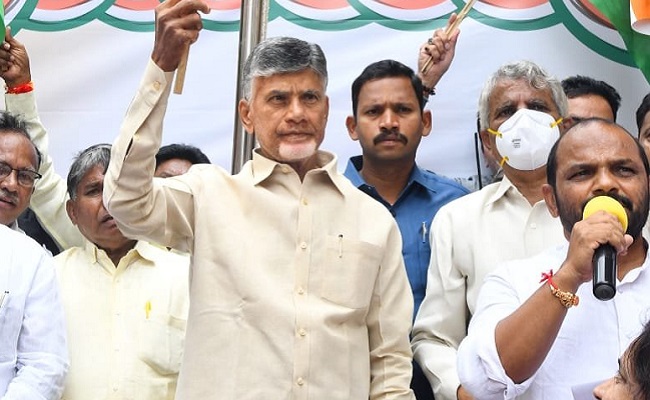 Telugu Desam Party president and former Andhra Pradesh chief minister N Chandrababu Naidu has once again raked up the wounds of bifurcation of combined Andhra Pradesh by extending his best wishes to the people of Telangana on the state formation day on Friday.
"Best wishes to the people of Telangana on #TelanganaFormationDay. May all your aspirations come true," Naidu tweeted, triggering criticism from the netizens from Andhra Pradesh.
The TDP chief also made a similar comment while addressing a press conference in the evening. He said it had been nine years since the two Telugu states got separated.
"I congratulate the people of the two Telugu states," he said.
Obviously, Naidu's comments irritated the Andhra people. "Please say Jai Telangana," said a netizen in a sarcastic tone.
"Sir, your two-eyes theory will stay in the history forever, super concept sir," said another follower. "But we feel pity as well as pain that AP separation day," commented yet another netizen.
There was yet another hilarious response from a netizen: "Ammayya, inka nayyam , nenu ichina Telangana ani pettaledu santosham" (It's better, you have not claimed that you have granted statehood to Telangana. That way, I am happy).
One more netizen was at his sarcastic best: "We thank Babu garu for not giving cabinet berth to our KCR and forcing him to launch the Telangana movement; for following two-eyed formula and extending support to Telangana formation; migrating to Vijayawada by giving up right on Hyderabad despite it being a common capital for 10 years and yet, constructing a house in Telangana capital."
Of course, there were some positive comments as well.
"My childhood CM.. credit to you as well for the development of hyd.. lucky to witness dynamic leaders like CBN, YSR and KCR.. legends," said one netizen.
"Who will be the TDP CM candidate for Telangana? NTR's party needs exist there," said another.
Senior YSR Congress party MLA and former minister Perni Nani lashed out at Naidu for greeting the people of Telangana on their state formation day.
"Why is he extending greetings to Telangana? Did he ever do when he was in power?" he asked.
Nani said while the YSR Congress party was firmly against the bifurcation of combined AP, Naidu had adopted double standards and it led to the formation of Telangana, causing deep wounds to the people of AP.