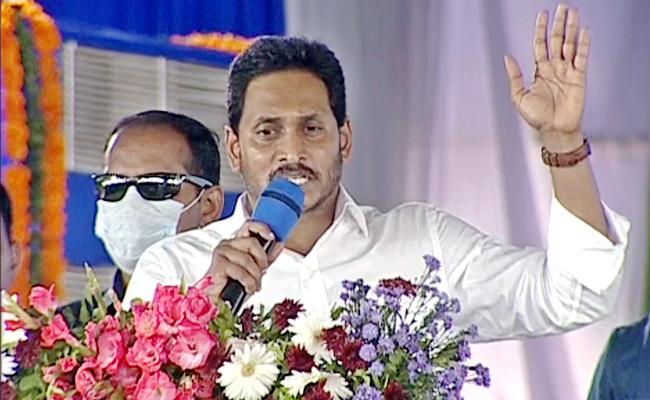 YSR Congress party president and Andhra Pradesh chief minister Y S Jagan Mohan Reddy, who has made it a point to attack his arch rival Telugu Desam Party president N Chandrababu Naidu at every public meeting, appears to be tired of using same phrases like "Dushta Chatushtayam" (gang of four) and other such analogies.
So, these days, Jagan is trying to look for new phrases to take a dig at Naidu and his party and of course, Jana Sena Party chief Pawan Kalyan.
In the last meeting held a couple of days ago, the chief minister turned the tables on Naidu using the latter's own slogan – "Idhemi Kharma Raa Babu.." and that evoked huge response from the public.
He explained how the people are cursing their fate for having elected Naidu as the chief minister between 2014 and 2019.
On Wednesday, too, Jagan came up with interesting analogies to attack Naidu.
"If somebody fights for his own wife, he is called Rama. If somebody eyes other person's wife, he is called Ravana. If somebody tries to usurp other person's properties, he is called encroacher, like TDP president N Chandrababu Naidu," Jagan said.
Speaking at the distribution of land title deeds at Narasannapet in Srikakulam district, the chief minister said people like MGR, NTR and Jagan had launched political parties and came to power on their own charisma and policies but there are others like Chandrababu Naidu who usurped the Party and power from his father-in-law which is nothing but land grabbing.
"While MGR, NTR and Jagan are land owners, Naidu is a land grabber, People supporting Ravana, who set his eye on Sita, should be called as demons and the friendly media of Chandrababu and Pawan Kalyan, are like dushta chathustayam (Gang of Four)," Jagan said.
He alleged that Chandrababu Naidu, who had done nothing during his term, had been carrying out false propaganda with his gang for political gains, while the present government was implementing revolutionary programmes.
Reiterating the commitment to decentralization, the chief minister said, from three capitals to increasing the number of districts to 26 to setting up of village and ward secretariats we have been moving forward.
"Our government is committed to development of all regions and send the message of accountability, while Chandrababu Naidu wanted to encourage regional disparities. Never believe them or their propaganda and the only yardstick for giving mandate is the welfare every household has received. I trust my people and god only," he said.