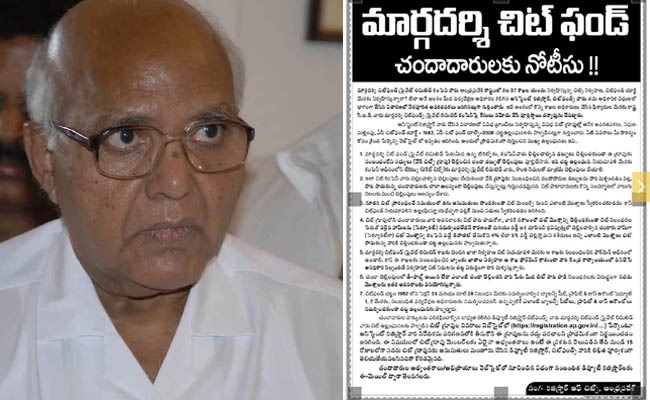 Denying all allegations, the Margadarsi Chit Fund Pvt Ltd on Sunday criticised the Andhra Pradesh government after the Andhra Pradesh Registrar of Chits issued a notice to the chit fund subscribers, expressing concerns about alleged financial irregularities, criminal violations, and fund diversion.
The company has said that the allegations levelled against them by the Andhra Pradesh government are baseless, while calling the government's actions "a personal vendetta" against them and the entire group.
On Sunday, the Andhra Pradesh Registrar's advertisement stated that they had decided to shut down the firm.
"Pursuing their vendetta against the Ramoji Group and Eenadu, the Telugu daily, the Andhra Pradesh government has initiated a direct attack by constantly persecuting and witch-hunting Margadarsi Chit Fund Pvt Ltd, which also belongs to the Ramoji Group, by levelling baseless and non-existing allegations of financial irregularities," the company said.
It further stated that "in continuation of their malicious agenda, the Andhra Pradesh government, through its Registrars, has issued an advertisement in the print media in the form of a notice to subscribers, making the same imaginary, arbitrary, and perverse allegations".
The Andhar Pradesh government has accused the chit fund firm, stating that the tickets held in the name of Margadarsi Chit Fund Pvt Ltd, the payment was made using the subscription money paid by unrelated members of the group (other chits group) but not paid by the company.
The government called it a major violation.
"We are working as per rules. Thus, the question of the company (Foreman) not contributing does not arise, and in fact, it is evidently proved and demonstrated beyond doubt that the prize amount is distributed every month to the subscribers without any default," the firm said.