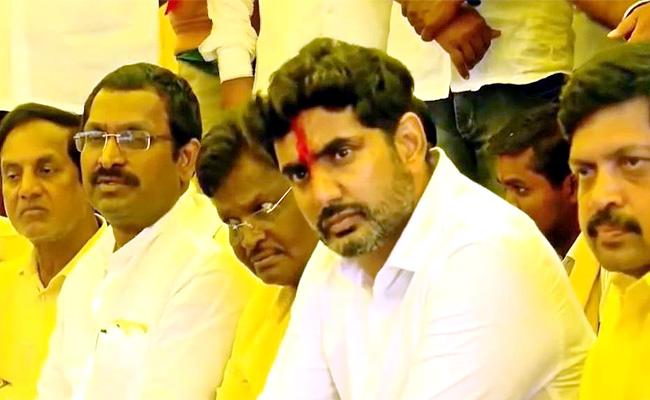 The unexpected and unfortunate incident of actor Nandamuri Taraka Ratna suffering a massive cardiac arrest leading to a critical condition is being viewed as a bad omen for the marathon padayatra of Telugu Desam Party general secretary and party president N Chandrababu Naidu's son Nara Lokesh.
The development has come within minutes of Lokesh taking the first step of his padayatra from Kuppam on January 27. Everything happened in a span of few minutes and Taraka Ratna had to be rushed to Narayana Hrudayalaya at Bengaluru, where his condition is said to be still critical.
Unmindful of the unfortunate incident, Lokesh went ahead with his padayatra and the TDP has been continuously giving it a huge hype in the media. The pro-TDP media, too, has been downplaying Taraka Ratna's health condition and continuing to focus on giving publicity to Lokesh padayatra.
The YSR Congress party made every attempt to take political mileage of the Taraka Ratna's heart attack and sought to attribute it to Lokesh's padayatra. The YSRC leaders projected Lokesh as an iron leg for Nandamuri family and said it would also turn out to be the same for the party as well.
Some overenthusiastic YSRC social media activists went on to say that Taraka Ratna had actually passed away, but the announcement is being delayed only to allow Lokesh to go ahead with the padayatra, so that it would not fetch him a bad name.
Setting aside this political mudslinging, there is a general feeling among the people that Lokesh, at least, should have deferred his padayatra at least by a day or two and rushed to Bengaluru to be with Taraka Ratna's family at this critical juncture.
Instead, Lokesh preferred to continue the padayatra and his pictures of laughing, smiling and waving to the cheering crowds being circulated to the media have sent a wrong message to the people.
"How can he be so cheerful, when his cousin who came all the way to Kuppam to extend solidarity with him, is on ventilator after suffering massive cardiac stroke? It only shows Lokesh lacks basic humanity and for him, politics is more important than human relations. Just like his father," an analyst said.