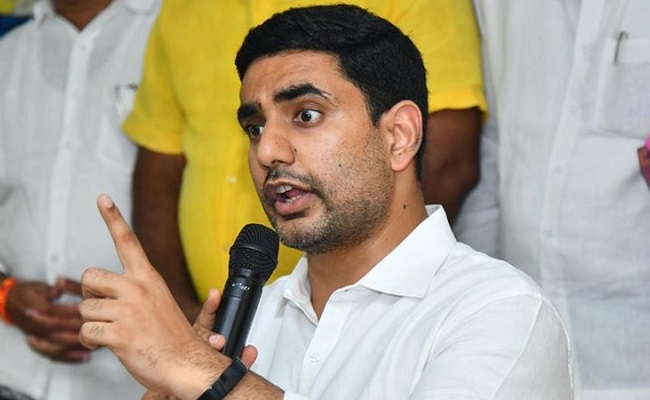 Criticism from a political party and rebutting the criticism from its opponent is very common in politics, but one would expect the leaders to maintain some decency and decorum in this attack and counter-attack.
But Telugu Desam Party general secretary and former chief minister N Chandrababu Naidu's son Nara Lokesh seems to have forgotten this decency in launching a counter-attack on the ruling YSR Congress party.
Lokesh was apparently angry over the allegation made by senior YSRC leader and advisor to the state government on public affairs Sajjala Ramakrishna Reddy against Naidu, stating that the latter was responsible for the rise in prices of petrol and diesel in the state.
In his tweet on Wednesday, Lokesh said: "Perhaps, the YSRC leaders, right from ministers to the chief minister and from MLAs to advisors, have not been blaming Chandrababu Naidu (@ncbn) only for two issues. They are: children born to them and illegal assets amassed by them."
Lokesh reminded that in 2018, when the fuel prices were shooting up, Naidu who was in power at that time, had reduced the additional VAT on petrol and diesel from Rs 4 to Rs 2 per litre. But, the Jagan government had imposed an unprecedented burden of Rs 30 per litre on the fuel, which is the highest in the South India.
"Instead of removing this huge burden on the people, the YSRC government was ridiculously blaming it on Chandrababu Naidu," he criticised.
He went on to abuse the chief minister as "London Pichi Reddy" who would regularly speak to evil spirits. "It appears Sajjala, too, is being affected by this madness of his boss," he said.
There is nothing wrong in Lokesh criticising YSRC leaders for blaming Naidu for every problem being faced by the state, be it increasing debts or rising prices. But the way he was trying to link Naidu to the YSRC leaders' children is not only disgusting but also highly condemnable. It only showed how low one could stoop in political criticism.