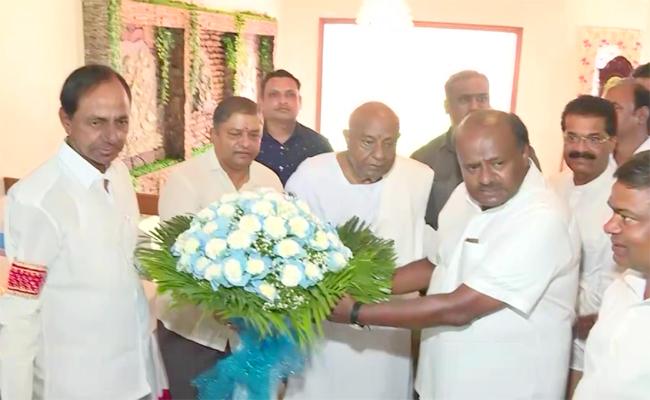 Telangana Rashtra Samithi president and chief minister K Chandrasekhar Rao, who recently vowed to create a sensation in the national politics "very soon," seems to have deferred it by another three months.
On Thursday, KCR who met Janata Dal (Secular) president and former Prime Minister H D Deve Gowda and his son H D Kumaraswamy, told the reporters later that there would be a sensation in the national politics in the next three months.
"You are going to witness some sensation in the national politics within next three months and nobody can stop it," he said.
In the same breath, he asked the media not to focus on "sensationalism" but highlight the plight of the people and find a solution for the same.
He said his efforts were only to create an "Ujjwal Bharat," and people should rise above the politics, leaders and 'isms' to work for the nation's progress.
KCR, who discussed issues of national importance with Deve Gowda and Kumara Swamy, said India would witness a change soon at the national level and none can stop it.
He reminded that he had earlier said that he would return for Kumaraswamy's swearing-in ceremony and his words were proven right.
"This time, I assure you, there will be change at national level. No one can stop it," he added.
Taking a jibe at Prime Minister Narendra Modi over his speech at Begumpet airport, KCR said even as India was celebrating Azaadi ka Amrit Mahotsav, people were still being denied access to basic amenities like drinking water and power.
"Anyone can give speeches. But we need change too," he said.
He reminded that the country's Gross Domestic Product (GDP) fell significantly and inflation gone up, even as rupee value fell unprecedentedly, unemployment on rise and industries are getting closed.
"Dalit, Adivasi, farmer or labourer – nobody is happy. There has been no improvement," the TRS president said, blaming the successive governments for their failure to tap the nation's potential and emerge as a strong economy.
In response to a question, KCR reiterated that the issue was not about who becomes the Prime Minister or which party comes to power, but it was about development and progress of the country. Despite lot of political parties and leaders ruling this country, it did not make desirable progress.