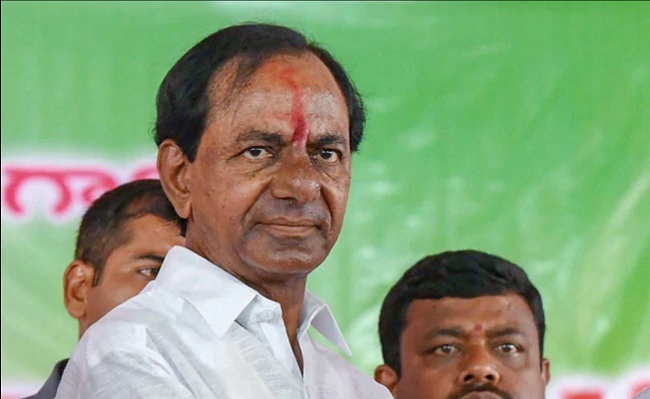 The speculations that had been doing rounds in the political circles that Telangana Rashtra Samithi president and chief minister K Chandrasekhar Rao would step down as the party president and hand over the reins to his son K T Rama Rao turned out to be far-fetched.
KCR will continue to be the party president for an indefinite period, as was evident from the way several sets of nominations filed on his behalf for the party president post on the first day of the election process on Sunday.
Even KCR's daughter and MLC Kalvakuntla Kavitha has filed the nomination papers on his behalf for the party president post.
Now that KCR has filed his nomination, it is pretty clear that he is going to continue as the party president, as nobody else would dare to file the nomination before the last date on October 22.
The party's plenary would be held at Hitex in Hyderabad on October 25, where KCR would be formally elected as the party president unanimously.
The entire exercise, therefore, is a mere farce but has to be conducted as per the Election Commission norms.
Earlier, there were reports that KCR might opt out of the contest as party president this time and make his son – TRS working president and minister K T Rama Rao as the party president.
The chief minister would remain an honorary president and chairman of the party steering committee, it was speculated.
However, by deciding to continue as the party president, it is clear that KCR is not going to give up any powers to anybody so early and that the TRS would go to the polls under his leadership.
This is definitely a big disappointment for KTR. What is more interesting is that he has been appointed as the in-charge for the Warangal public meeting being organised on November 15 to mark two decades of TRS formation.