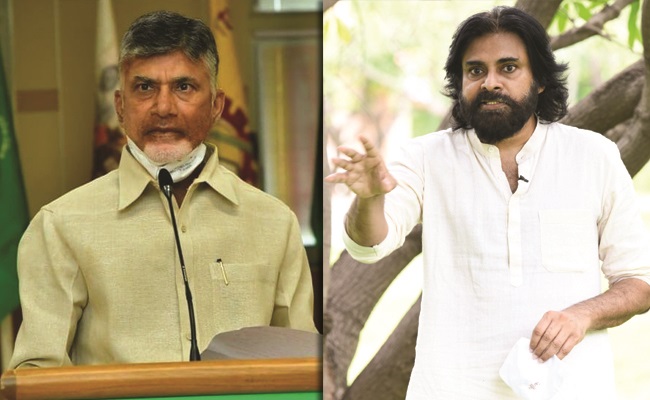 The TDP has won two graduate MLC seats in the state with a significant majority, causing celebrations within the party. However, the Janasena party is now grieving over the TDP's success.
Despite Pawan Kalyan's desire to form a new alliance with the TDP, his party's leaders believe that the TDP's victory is a setback for their party's negotiations with CBN.
It is widely known that Janasena is planning to form an electoral alliance with the TDP, but rumors have spread that Chandrababu Naidu, the leader of TDP, will only offer 20 seats to Pawan Kalyan, causing frustration among his supporters.
Pawan had planned to show his strength by organizing the Machilipatnam Sabha and convincing Chandrababu that the TDP needs him to win more seats.
The Sabha was a big hit with the crowds, but within a couple of days, the MLC election results came as a rude shock for Janasena.
With the TDP's landslide victory in the North Andhra and East Rayalaseema Graduate elections, Chandrababu is in a merry mood, making it possible to threaten Pawan that he will not receive more than 20 seats. So there will be no scope for negotiation for Pawan with CBN.
Furthermore, before the MLC election, Chandrababu tried to officially gain Janasena's support, but Pawan did not respond.
If he had been in terms with CBN, there would have been a chance to claim credit for the TDP's victory.
However, that chance is now gone, and the Janasena Chief is upset with the TDP's victory in two MLC seats.