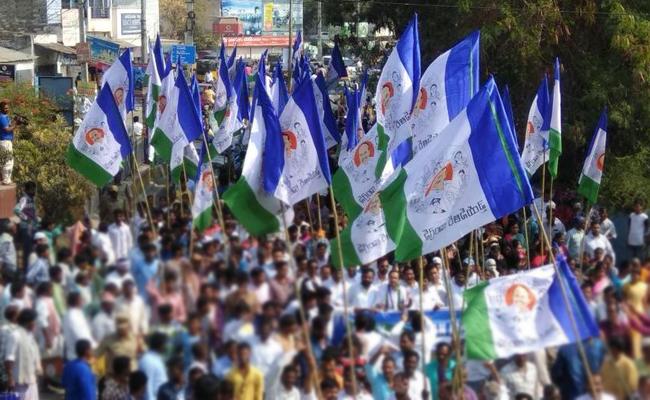 Even as the leaders and cadres of YSR Congress party are celebrating the birthday of party president and chief minister Y S Jagan Mohan Reddy with a lot of pomp and gaiety, the birthday celebrations also exposed chinks in the party in some places.
At Dachepalli in Guntur district, there were reports of clashes between two groups of YSRC – one led by MLA Kasu Mahesh Reddy and the other by MLC Janga Krishnamurthy, over erection of flex boards on the occasion of Jagan's birthday.
Apparently, the group of Mahesh Reddy removed the flexes erected by Janga Krishnamurthy group at Gamalapadu village and put up their own flex boards to greet the chief minister on his birthday.
This led to a tense situation, as the Janga group clashed with the followers of Kasu Mahesh Reddy. The police had to intervene to bring normalcy.
In fact, there have been differences between the two groups for quite some time.
Janga has been alleging that Mahesh, taking advantage of his assembly membership, has been securing contracts only to his followers and undertaking sand and other mineral mining. Even in the official programmes, the MLC has been ignored.
Both the leaders are operating from separate party offices in Gurajala constituency and have not been seeing eye to eye for quite some time. The latest clashes over the erection of Jagan's flex boards exposed the differences further.
In Nagari constituency of Chittoor too, the birthday celebrations of Jagan led to the group clashes in the YSRC – one group led by MLA R K Roja and another by her rivals backed by senior party leaders.
The tearing up of flexes of the chief minister at Puttur on Sunday night led to the clashes between the two groups.
The police had to arrest anti-Roja group leaders and bring the situation under control. Their followers gathered at the police station and raised "Roja Down Down slogans" and demanded that the followers of Roja, who tore the flexes of Jagan should be arrested.