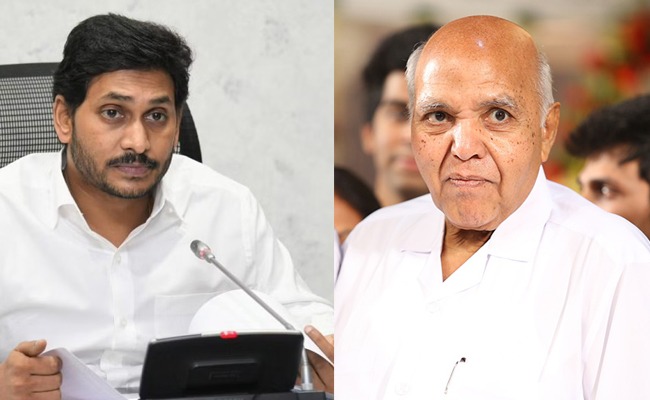 The Y S Jagan Mohan Reddy government in Andhra Pradesh is gradually tightening the noose around Margadarsi Chit Funds, promoted by media baron and Eenadu group of publications chairman Ch Ramoji Rao in a suspected scam of collecting deposits against the RBI norms.
According to official information from the power corridors, several teams of AP Stamps and Registration Department which had conducted searches in the offices of Margadarsi Chit Funds at several places across the state, found several irregularities.
"The search and inspection initiated at 18 units of Margadarsi Chit Fund on November 15 concluded on Thursday. The officials seized all the records and material relevant for the proceedings under Chit Fund Act, 1982," sources in the CMO said.
Sources said the teams had collected further evidence of diversion of funds, non-payment of GST and not giving security under Section 31 by the company.
"In view of the above, all the Deputy Registrars of Chits in the state are directed to take necessary action including penal action on the above noticed irregularities and submit compliance," the sources added.
Apparently, the Jagan government has specific complaints that Margadarsi is forcing the bidders to deposit their chit money, which is supposed to be refunded to them, in fixed deposits. The company is allegedly circulating the same money through lending at higher interest rate.
"If there is any evidence of the irregularities, we shall book criminal cases against the promoters of the chit fund companies," an official said.
Last week, former Congress MP from Rajahmundry Vundavalli Arun Kumar demanded that the Central government order an investigation by the Enforcement Directorate (ED) or Securities and Exchange Board of India (SEBI) into the alleged collection of deposits by Margadarsi Financiers, a group concern of Margadarsi Chit Funds, in violation of the Reserve Bank of India Act.
He pointed out that Margadarsi Financiers is a Hindu Undivided Family (HUF) concern promoted by Ramoji Rao and as per the RBI rules, it cannot collect deposits from public. However, the company had mobilised Rs 2,600 crore from people in the form of deposits.