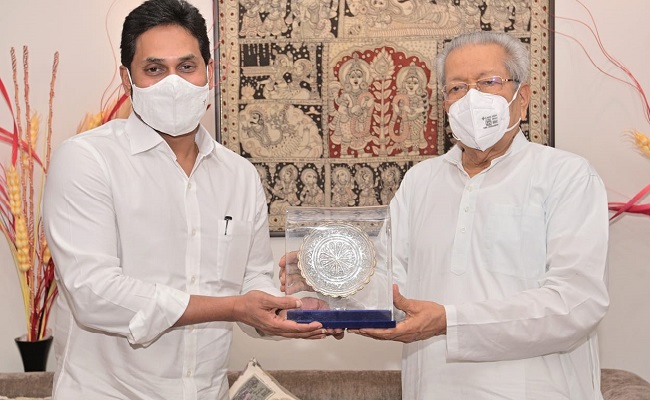 Chief Minister Y S Jagan Mohan Reddy met Governor Biswabhushan Harichandan at Raj Bhavan on Monday.
Accompanied by his wife Y S Bharathi, the chief minister met the Governor couple in the evening.
While the official sources say that the meeting was just a formality after the budget session, rumours are doing round giving some political twist to the meet.
The chief minister meets the Governor after the latter addresses the joint session of Assembly.
The Governor had addressed the joint session of the assembly for its one-day budget meeting held last month.
However, the rumours are doing round that the chief minister visited the Raj Bhavan only to make a formal request on the new MLC list.
The state government had sent a list of four names to be nominated in the Governor's quota for the Assembly.
A section of the media said that the Governor had raised objection on the candidatures of Lella Appi Reddy and Thota Thrimurthulu to be nominated as MLCs.
The media said that the Raj Bhavan had collected information about the criminal cases pending against these two candidates and hence not cleared the list.
It is to be seen what made Jagan Mohan Reddy to meet the Governor. Is it a customary meeting as claimed by the government or a meeting to lobby for the MLC list!