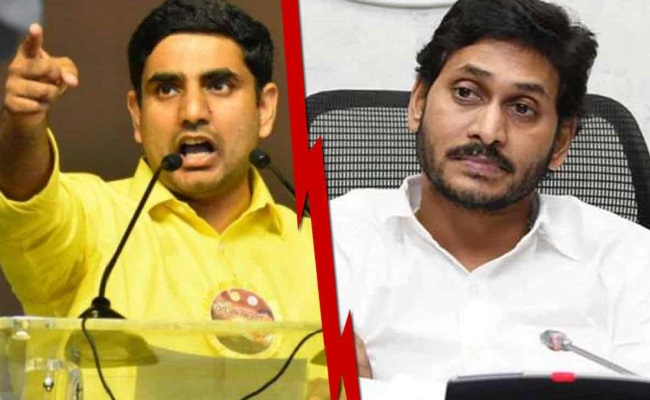 YSR Congress party president and Andhra Pradesh chief minister Y S Jagan Mohan Reddy's comments in Konaseema district, calling Telugu Desam Party general secretary Nara Lokesh a liar, evoked strong retort from the latter.
Jagan said every father would want his children not to lie and cheat people. "But Naidu has been giving training to his son in uttering lies and resorting to cheating. Have you seen such a father anywhere?" he asked.
Within hours, there was a strong reaction from Lokesh. He asserted that it Jagan Mohan Reddy who was well known for spreading lies and betrayals but not Chandrababu Naidu. "He is a spoilt brat, not me," he said.
He said Jagan's father and former chief minister Y S Rajasekhara Reddy had himself threatened to break the legs of his son if the latter set his foot again on the AP soil. He pointed out that former CM late Konijeti Rosaiah had revealed this about YSR's warning to his son.
"It was apparent that Rajasekhara Reddy could not tolerate the lawlessness, intimidation, cheating and betrayals of Jagan Reddy in those days itself," Lokesh said and released a video showing how Rosaiah explained about the frustration of YSR over Jagan Reddy's illegal activities at that time.
"Because of this only, Jagan had targetted and subjected Rosaiah to political victimisation. His misdeeds and excesses had started even during his father YSR's regime itself. It is unfortunate that Jagan, whom YSR had asked not to set foot on AP soil, had eventually become the ruler of the State," he said.
The moment he became the CM, he started perpetrating a regime of frauds, illegalities and betrayals on the people, he criticised.