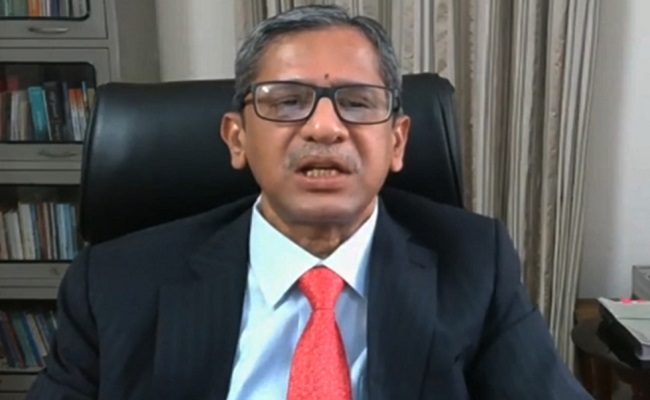 The YSR Congress party government headed by chief minister Y S Jagan Mohan Reddy is going to give a parting gift to Chief Justice of India N V Ramana, a week before his retirement from service on August 26.
The Acharya Nagarjuna University at Guntur will be presenting an honorary doctorate to Justice Ramana at a glittering ceremony on the campus on August 20 on the occasion of 37th and 38th Convocation of the university.
Governor Biswa Bhushan Harichandan will be presenting the honorary doctorate to the chief justice of India, who has been invited to the convocation as the guest of honour.
It was in the same university that Justice Ramana had done his graduation and also completed his law degree. In fact, he belongs to the first batch of law students from the university and he rose to the position of the CJI. Hence, the authorities thought it is a big honour for the university.
Very recently, Osmania University also awarded the honorary doctorate to Justice Ramana. Governor Tamilisai Soundararajan presented the award to the CJI. Now, if Acharya Nagarjuna University also presents him the degree, it will be a double doctorate for him.
In fact, the Acharya Nagarjuna university had proposed to grant the honorary degree to Justice Ramana long ago and it had been pending before the government for quite some time. However, the Jagan government is learnt to have cleared the file recently and it was approved by the Governor, who is the chancellor of the university.
It may be mentioned that all was not well between the chief minister and the CJI till recently. Even before Ramana became the CJI, the chief minister wrote to his predecessor S A Bobde making wild allegations against the former stating that he was trying to topple his government in collusion with Telugu Desam Party chief N Chandrababu Naidu.
The Supreme Court, however, dismissed these charges after due internal inquiry. Subsequently, Jagan ignored Ramana and did not even receive the latter when he came to AP after becoming the CJI.
But things changed a few months ago, when Jagan changed his mind and accorded a civic reception to Justice Ramana. He felicitated the CJI and also hosted him lunch. A separate reception was organised at Raj Bhavan.
Yet, the gap continued to remain after a series of negative comments by the CJI against the state government. Now that Ramana is retiring from service, a parting gift from Jagan in the form of honorary doctorate evokes a lot of curiosity.