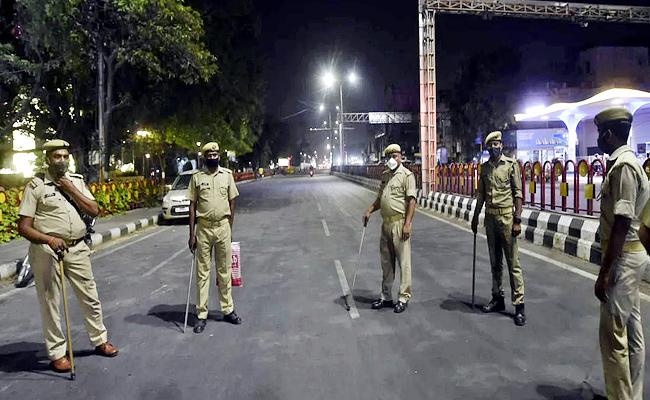 Within hours of announcing imposition of night curfew in the entire Andhra Pradesh on account of outbreak of Omicron variant of Coronavirus, the Y S Jagan Mohan Reddy government withdrew the decision and deferred it to post-Sankranti festival.
The chief minister took the decision at a meeting of health department officials on Monday.
The relevant government order (GO) was issued on Tuesday morning, imposing various restrictions including 50 per cent occupancy in cinema theatres and imposition of night curfew from 11 pm to 5 am.
But within a couple of hours, there was a clarification from the government that the GO was being modified and a fresh GO would be issued.
Later, speaking to reporters, state health minister Alla Nani said the government had decided to defer the night curfew plan in the wake of Sankranti festival.
He said the night curfew would cause a lot of inconvenience to the people travelling to and from their native places in the state for Sankranti festival.
"A large number of people would be travelling to their native villages for the festival and returning to their places of work after the festival is over. Imposition of night curfew would affect their travel plans. Hence, we have decided to defer the decision to January 18," Nani said.
While the travelling of lakhs of people to their native places for Sankranti is one reason, another main reason, according to sources, for the postponement of the night curfew plan was the release of Akkineni Nagarjuna's film Bangarraju on January 14.
Sources said Nagarjuna's friend and producer Niranjan Reddy had a meeting with chief minister Y S Jagan Mohan Reddy on Monday evening and requested that the night curfew decision be postponed, as it would affect the collections in theatres in Andhra Pradesh.
"It has been a tradition for the people of Andhra to watch latest movies in the theatres on the festive day and especially for the night shows, there will be heavy rush. If the night curfew is imposed, it would not only affect the second show, but even the first show collections would come down," Reddy reportedly told the chief minister.
If the night curfew decision is postponed for four or five days, it would help the distributors to a large extent, he said and requested the chief minister to consider postponement of the night curfew, sources said.