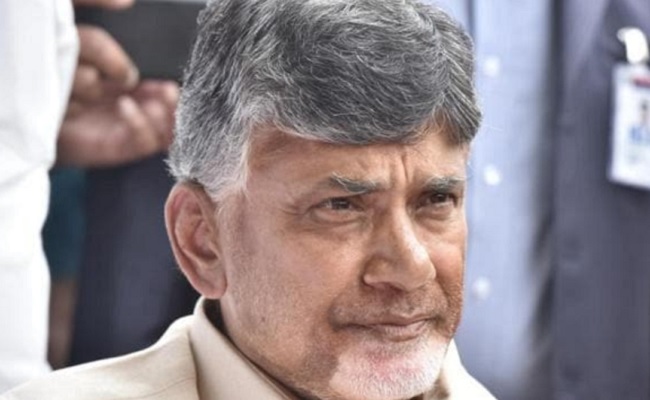 Is the Telugu Desam Party heading towards a dead-end in its political journey in Andhra Pradesh?
This was the question posed by senior political journalist Kumkum Chadha of Hindustan Times, in a virtual interview with TDP chief and former Andhra Pradesh chief minister N Chandrababu Naidu, which was webcast on Sunday.
She reminded that the Jagan government conquering all the elections in the state, right from the assembly elections to the latest municipal elections.
"What is the way forward for the TDP? Have all the doors been closed forever? Is it going to be the dead-end for the party?" Chadha asked.
Referring to the vow taken by Naidu that he would enter the state assembly again only after becoming the chief minister again, Chadha recalled that Trinamool Congress chief Mamata Banerjee, too, had once taken similar vow not to enter Writers Building in Kolkata (Secretariat) unless she becomes chief minister.
"It took 18 years for Mamata to fulfil her vow. How many years, do you think, will take for you to realise your pledge? Will you be able to fulfil your vow?" she asked.
The veteran journalist also pointed out that while Naidu could put up a strong fight with late Y S Rajasekhar Reddy and proved a right match for him, his son Nara Lokesh was no match for YSR's son Jagan Mohan Reddy or for that matter, K T Rama Rao, son of Telangana chief minister K Chandrasekhar Rao.
She also questioned the "politics of convenience" adopted by Naidu in joining hands with the Bharatiya Janata Party once and later with the Congress party, despite the fact that the TDP was founded on the plank of anti-Congressism.
Chadha wondered why Naidu, who is generally considered to be a strong man with a strong willpower, broke down in the assembly and outside.
She sought to know whether it was a drama, as was alleged by the YSR Congress leaders, or was he playing to the gallery to gain sympathy from the people.
She also wanted to know whether there were any records to prove that the YSRC leaders had really abused him and his wife in the assembly.
The TDP chief was virtually shaken by all these questions, which Chadha posed quietly but sharply at him. For most of the questions, Naidu gave irrelevant answers and tried to evade the right answers.
He, however, said the TDP was definitely not out of the contest in Andhra politics.
"You are going to see what is going to happen in 2024 or before. I am pretty sure that the TDP will come to power again," he asserted.
He admitted that his son was no match to Jagan.
"Yes, we are no match to Jagan in playing such wily politics. We cannot do the kind of politics he is doing," Naidu said.