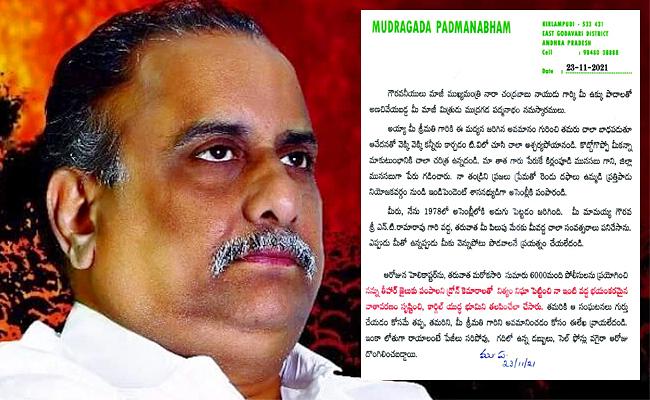 Former minister and Kapu leader Mudragada Padmanabham, who had once shaken Andhra Pradesh politics with his agitation for Kapu reservations, has pooh-poohed the attempts of Telugu Desam Party president N Chandrababu Naidu to gain sympathy from people by weeping in public over alleged humiliation by the YSR Congress party.
On Tuesday, Mudragada wrote a strongly-worded letter to Naidu on how the previous TDP government had humiliated him and his family during the Kapu agitation, despite the fact that his family had a greater history than that of Naidu.
"I was surprised to see you crying during the live telecast of your press conference, for the alleged abuse of you and your wife by the YSRC leaders. But you seem to have forgotten that you had insulted me and my family much more during your regime," he said.
Mudragada reminded how Naidu's son Lokesh had called up the police and instructed them to drag him (Mudragada) out and throw him behind the bars.
"He abused me using filthy language. The police also kicked my wife and abused her and my daughter-in-law using foul words," he recalled.
He wondered whether only Naidu and his wife were sacred people and not others.
"In your view, we are children of bitch and you are holy souls. If your offices are sacred temples, what are our houses and offices?" he asked.
Stating that his intention was not to insult Naidu and his wife, Mudragada said he was writing the letter only to remind him of the past, how the TDP government had created a war-like situation at his residence in East Godavari.
The Kapu leader said he and his family had spent sleepless, horrifying nights in jail when the police were torturing them.
"I don't know why you wanted to treat me in such a humiliating manner. But the earth is round in shape. It is getting back on you now," he said.
He said at one stage, he and his family members thought of committing suicide, as desired by Naidu.
"But I withdrew my decision, as I wanted to see your downfall in politics," Mudragada said.
On Naidu's vow to return to the assembly only after getting re-elected as the chief minister, Mudragada ridiculed such a thought.
"Don't take such vows. It will not suit for people like you and me. Such vows can be taken only by great leaders like N T Rama Rao, Jayalalithaa and Mamata Banerjee," he advised.
Click Here for Latest Direct-to-OTT Releases (List Updates Daily)