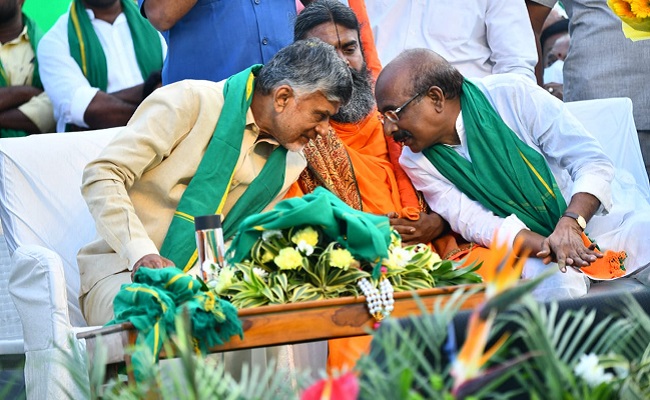 TDP chief N Chandrababu Naidu took a clear decision to avoid the presence of national farmers' leaders at the Tirupati meeting of the Amaravati farmers.
He told the organizers not to invite the national leaders of the farmers who were leading the farmers' struggle that forced the Modi government to withdraw the three farm bills.
The farmers of Amaravati or the JAC leaders have initially extended invitations to the leaders of the farmers' movement from Haryana.
However, the BJP leaders expressed displeasure over extending an invitation to them following which Chandrababu Naidu told the JAC leaders to skip the farmers.
The TDP chief took the decision to keep the BJP leadership in good humor as he is trying for alliance with the BJP in the 2024 general elections.
Naidu is also said to have decided who should be invited for the Tirupati meeting and the guests were seated on the dais accordingly.
By skipping the farmers' leaders at Tirupati, Naidu wanted to please the BJP leaders as that would help him to make his next move to align with the party.
While it is not known yet whether the BJP top leadership is willing to take Chandrababu Naidu on board in the NDA, there is bickering in the Amaravati movement, with new faces having grabbed the Tirupati show.
The re-entry of actor Sivaji is opposed by several of the Amaravati leaders and they are not willing to accept him in the movement. However, Chandrababu Naidu is imposing Sivaji in the movement and had reportedly told the Amaravati JAC to give priority to Sivaji.
It is to be seen how Chandrababu Naidu would guide the Amaravati movement with all these differences on one side and his political interest of forging alliance with the BJP on the other.
It is also to be seen how Chandrababu Naidu would balance his two interests – Amaravati and the TDP – in the days to come.