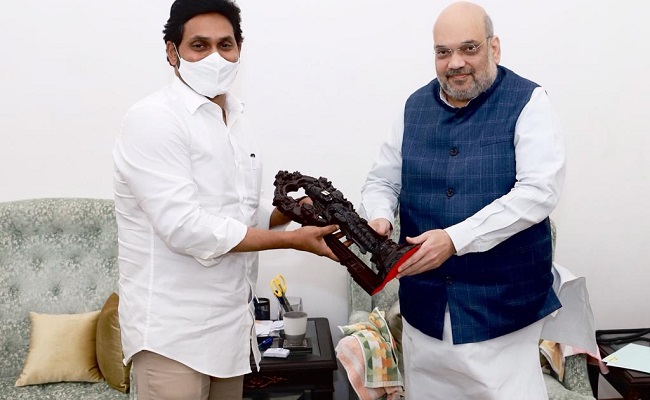 A meeting between Union Home Minister and Bharatiya Janata Party leader (BJP) Amit Shah and Andhra Pradesh Chief Minister YS Jagan Mohan Reddy was held for about 1 hour and 25 minutes.
Several topics were discussed in this session and here are the highlights, topic wise.
Polavaram:
YS Jagan Mohan Reddy has explained the land acquisition for this project is increased from 1,02,130 to 1,55,465 acres. He has also shared that the number of families to be shifted from this place for rehabilitation is increased from 55,335 to 1,06,006. Finally he asked to clear the due of Rs 1644. 23 Cr which has been pending from 2018.
Shifting of High Court:
Chief Minister has asked to reissue the notification to shift the High Court from Amaravathi to Kurnool, as per the decision of the decentralization of capital zone.
Tribal university:
The state government has identified a land of 250 acres to set up teh Tribal University at Saloor in Vizianagaram district. The CM has requested to expedite the process to start the University.
Special Status To AP:
The CM has put up the request again to give special status to the state in order to meet the financial crisis at this moment with new job opportunities and industries.
Covid Vaccination- Permissions To Colleges:
The covid vaccination is started in the state and there is dire need to increase the number of centers and also the staff to execute the process. In this process the central government has already granted three colleges. The state has requested to grant the remaining 13 colleges. The CM has also requested to give special grant to start the colleges.
Apart from this the meeting was continued on the topics of support for electricity department, to expedite the process of permissions for Rayalaseema irrigation project, permission for Disha Bill, financial support to aid the victims of Nivir Cyclone etc.