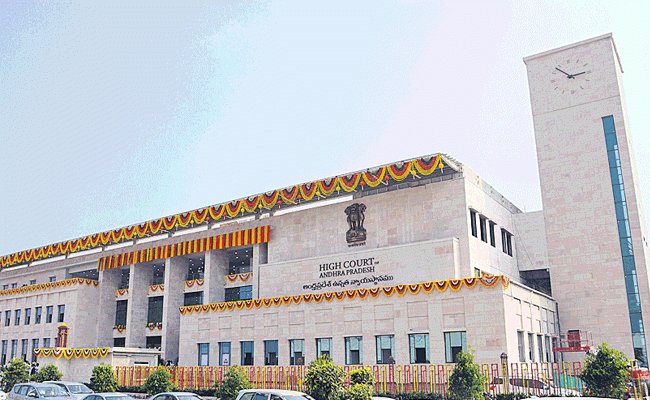 In a temporary setback to the Jagan Mohan Reddy government, the Andhra Pradesh state high court on Monday ordered a status quo on the government's move to take back returnable plots allotted to Dalits in lieu of their assigned lands given for the capital in Amaravati.
The high court had earlier issued interim orders staying the implementation of GO No. 316, aimed at recovering the residential and commercial plots allotted to the Dalit farmers in lieu of the assigned lands surrendered to the APCRDA for the capital construction.
On Monday, the high court temporarily suspended the GO and ordered that status quo be maintained on the ownership of the plots allotted to the Dalit farmers.
The court directed that no further steps should be taken by the Amaravati Metropolitan Region Development Authority (AMRDA), which replaced AP Capital Region Development Authority (APCRDA).
While the government's counsel argued that selling the assigned lands or exchanging them with plots is against the rules, advocate for the petitioner K Indraneel Babu said the government had issued the GO unilaterally.
After hearing the arguments, the high court ordered status quo.
In August first week, the Jagan government issued notices to around 50 farmers, who had been allotted residential and commercial plots allotted by the then Telugu Desam Party government in lieu of the assigned lands given for the capital construction under land pooling.
Notices are also being given to those who had purchased assigned lands from Dalits at lesser rate, gave them away to the government under land pooling and in return, were allotted residential and commercial plots in the prime areas of Amaravati.
All the Dalit farmers who were allotted plots and all those who had bought the assigned lands of Dalits and got the plots allotted were asked to give explanation within 15 days as to why their residential and commercial plots should not be taken back for violation of the assigned lands norms.
As per the norms, the government lands assigned to Dalits for cultivation should not be sold or purchased. If it happens, the government has powers to cancel the assignment and take them back.
However, during the construction of capital city at Amaravati, the then Chandrababu Naidu government issued an order (GO No. 41) lifting these restrictions on assigned lands and enabling the Dalit farmers to sell their lands, so that the government could acquire them for the capital city under land pooling.
Some of the Dalit farmers had sold away their lands to the private people for their financial needs and some others surrendered their lands to the government in lieu of which they were allotted residential and commercial plots.
It suspected that many TDP leaders had purchased lands from Dalit farmers by threatening them as part of the insider trading and initiated an ACB inquiry into it. However, the state high court and later the Supreme Court struck down the case, ruling out insider trading.