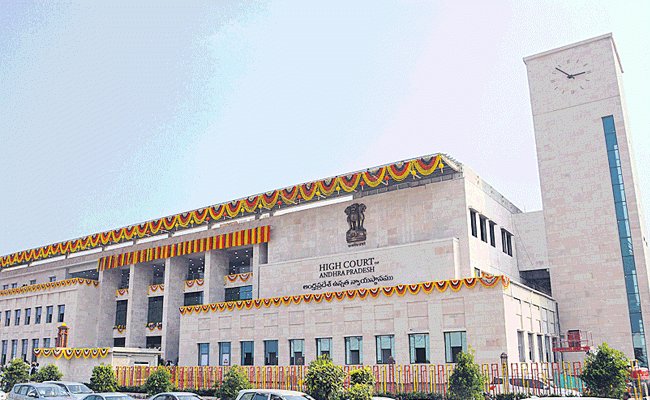 The hurdles for the conduct of public meeting by the farmers of Amaravati at Tirupati on December 17 were cleared with the Andhra Pradesh high court on Wednesday giving conditional permission for the same.
While senior lawyers Posani Venkateshwarlu and Lakshminarayana argued in favour of Amaravati Parirakshna Samithi, government lawyer P Sudhakar Reddy argued against giving permission for the meeting.
The petitioners' lawyers assured that the meeting would be held within the restrictions and it was only aimed at highlighting their demand and not to attack the government or any other person individually.
The government's pleader argued that the meeting would cause enmity between the people of different regions. After hearing of arguments from both the sides, the high court gave the approval for holding the public meeting with certain conditions.
It said the meeting, which is a culmination of the 45-day-long padayatra of Amaravati farmers, should be held between 1 pm and 6 pm. They should strictly follow the Covid-19 protocols while holding the meeting, the court said.
At the same time, Rayalaseema Hakkula Sadhana Samithi also asked for permission to hold the public meeting at Tirupati on the same day, but the high court said it could hold the meeting a day later.
Though the Amaravati farmers have given an assurance to the high court that the meeting would be purely apolitical and it is meant to highlight only their demand for Amaravati as the capital, but it appears the meeting is going to witness political fireworks.
Reason: The meeting is going to be attended by leaders of all political parties. More importantly, it is learnt Telugu Desam Party president N Chandrababu Naidu is going to be the chief guest for the meeting. And one can expect what kind of attack would be there against the Jagan Mohan Reddy government.
There is also a possibility of power star and Jana Sena Party president Pawan Kalyan attending the meeting. And he would definitely spit fire at Jagan.
Similarly, BJP state president Somu Veerraju, CPI state secretary K Ramakrishna, Bharatiya Kisan Union leader Rakesh Tikait and Andhra Intellectuals Forum president Chalasani Srinivas would also be attending the meeting.