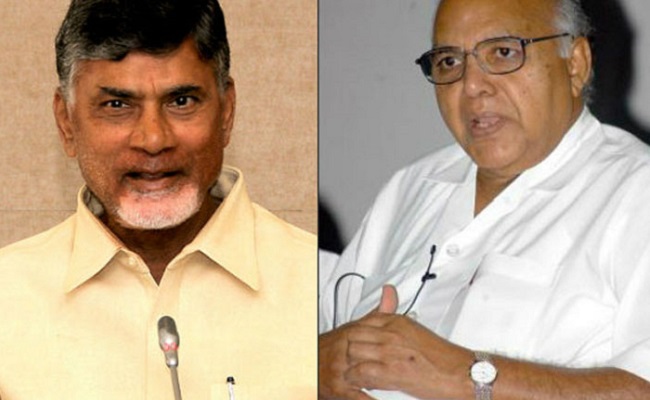 Media baron Cherukuri Ramoji Rao has taken up the responsibility of defeating the YSR Congress in the next elections.
He seems to have lost confidence in the capacity of TDP chief N Chandrababu Naidu to defeat the YSR Congress.
This is what people in Andhra Pradesh have started talking in groups. Because for the past some time, Ramoji Rao started giving counter to the YSR Congress through the Eenadu paper.
Whatever chief minister Y S Jagan Mohan Reddy speaks in the Assembly, it should have been either TDP chief Chandrababu Naidu or his party leaders, who are expected to give counter it.
But, Ramoji Rao is countering Jagan Mohan Reddy's speeches though Eenadu which indicates that Ramoji Rao doesn't believe that Chandrababu Naidu or TDP would counter.
In a way, Ramoji Rao is now fighting the battle with Jagan Mohan Reddy on behalf of the TDP.
It is a history that Ramoji Rao fought the battle against the Congress in 1982-83 for N T Rama Rao and won the battle.
After nearly four decades, Ramoji Rao is now fighting the battle against the YSR Congress, particularly against Jagan Mohan Reddy, on behalf of Chandrababu Naidu.
But, there is a lot of difference in the political awareness of the people these days, when compared to 1982-83.
In those days, whatever Eenadu reported, people blindly believed it, even if he packed his paper with bunch of lies.
But, today, there is social media and people are checking everything for facts. People are also exposing Eenadu's lies and biased reports.
It is not going to be easy for Ramoji Rao to win the battle this time, with the social media's presence.
However, Ramoji Rao believes that he could win the battle for Chandrababu Naidu and that is what he is doing through his Eenadu paper.