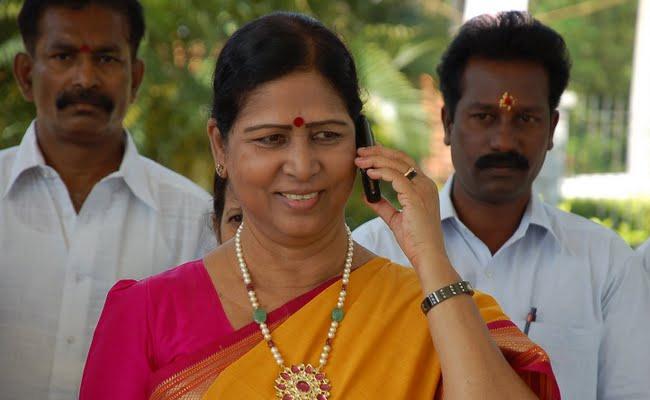 It is now official. Senior Telugu Desam Party leader and former minister Galla Aruna Kumari on Thursday announced that she was quitting politics.
Participating at the ground breaking ceremony of the Amara Raja Raja Skill Development Building in the Diguvamagham area of Thavanampalle mandal in Chittoor district, Aruna said her political career had come to an end.
"There is nothing I can do in politics now. I have seen everything in politics and held many positions. My work here is my future now," she said, while speaking to reporters after the ceremony.
She also made an interesting career about her son Galla Jayadev, who is presently TDP MP from Guntur.
"My son will continue in politics. I have given him a free hand in politics. He and his followers can be there in any party that has future," Aruna Kumar said.
On her role in the TDP, the former minister said she was no more a senior party leader in the party.
"It is Chandrababu Naidu who is in-charge of the entire party. In the given circumstances, I have no role to play in the party; and that is why, I am silent. Anyway, my son is there and we shall support him," she said.
Galla Aruna had been with the Congress party for quite a long time, before switching over to the TDP after the state bifurcation.
She contested the assembly elections from Chandragiri assembly constituency in 2014, but could not win the seat. In 2019, she did not contest the elections at all.
However, her son Galla Jayadev who joined the TDP along with her, won as Guntur MP both in 2014 and 2019.
In October 2020, Aruna resigned from the TDP politburo much to the shock of the party workers.
Interestingly this decision was taken after the cancellation of the 253 acres of land leased by the State government which was earlier allotted to her family-run company Amara Raja Group, as no industry was set up on the same land.