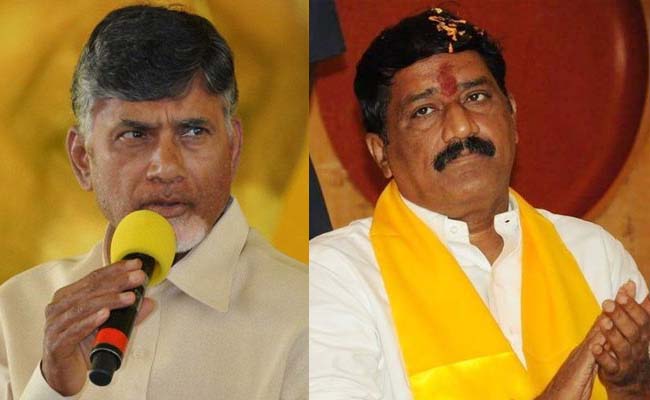 Ever since he lost power in the 2019 elections, Telugu Desam Party president and former Andhra Pradesh chief minister N Chandrababu Naidu seems to be gradually losing grip over the party.
As the YSR Congress party led by chief minister Y S Jagan Mohan Reddy is growing stronger with each passing day, the TDP leaders, both juniors and seniors, have started ignoring Naidu completely.
There are hardly any leaders in the party, who take Naidu seriously, despite the fact that the latter has been relentlessly fighting against the Jagan government on various issues. They are not caring for his instructions nor do they respond to his zoom meetings.
Take the case of senior TDP legislator from Visakhapatnam (north) and former minister Ganta Srinivasa Rao.
Despite winning as an MLA, he has been keeping away from the party activities for the last two and a half years, whether it is because of loss hope on the revival of the party's glory or the fear of witch-hunt by the YSR Congress party government.
He made quite a few attempts to join the YSRC, but they did not succeed to due to strong resistance from the party leaders from Visakhapatnam. Yet, he did not get back to active TDP politics.
Ganta didn't even inform the party leadership when he tendered his resignation from his assembly membership in protest against the Centre's move to privatise Visakhapatnam Steel Plant. The resignation is still pending with Speaker Tammineni Seetharam.
When Naidu called for a meeting of the TDP leaders from north coastal Andhra on Friday, Ganta cared a damn for it.
He told Naidu, who called him on Thursday, that he won't be able to attend the meeting due to prior engagements. He said he would meet Naidu "at an appropriate and convenient time."
It is a pity that Naidu has not been able to give any confidence to the party leaders about the return of the party to power again. If this situation continues, hardly anybody would be left in the party by the time next elections are announced.