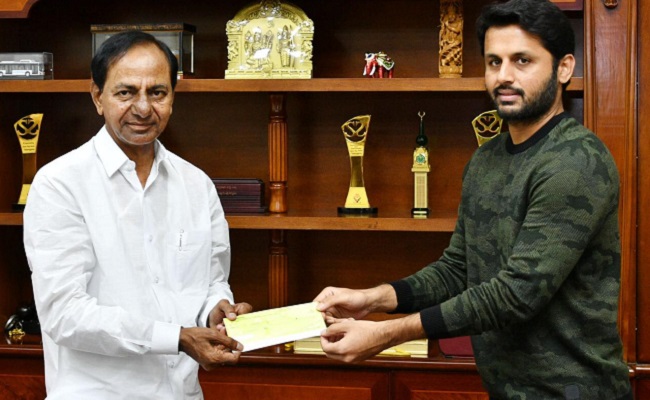 As the Telangana and Andhra Pradesh governments have geared up to take stringent measures to check the spread of Coronavirus, various sections of people have started contributing funds for taking up effective measures.
Microsoft CEO Satya Nadella contributed Rs 2 crore to the Telangana government for tackling the Coronavirus.
On his behalf, his wife Anupama Nadella donated Rs 2 crore to Telangana chief minister's relief fund. Her father K R Venugopal, a retired IAS officer, handed over the cheque to chief minister K Chandrasekhar Rao at his camp office on Tuesday.
The state government employees and teachers also announced donation of their one-day basic salary to the CM Relief Fund towards anti-Coronavirus measures. The total amount of their contribution comes to around Rs 48 crore.
Similarly, employees of Andhra Pradesh also announced contribution of their one-day salary to the AP CM relief fund.
Telugu film actor Nitin also donated Rs 10 lakh each to Telangana and AP CM Relief Funds. On Tuesday, he met KCR and handed over the cheque.
Bharatiya Janata Party's lone lawmaker in Telangana assembly K Raja Singh Lodh also announced his two months' salary to the CMRF.
And Telangana BJP president Bandi Sanjay donated Rs 50 lakh from MP local area development funds to the Telangana government for taking up anti-Coronavirus measures.
In Andhra Pradesh, Telugu Desam Party MP from Vijayawada Kesineni Srinivas alias Nani announced Rs 5 crore from his MP local area development (MPLADS) funds for taking up measures to tackle Covid-19 cases. He asked the district officials to submit proposals.
TDP MP from Srikakulam K Rammohan Naidu also donated Rs 70 lakh from his MP LAD funds to district collector to effectively fight the Coronavirus and also donated his one-month salary as an MP to help the Srikakulam victims of the Corona.