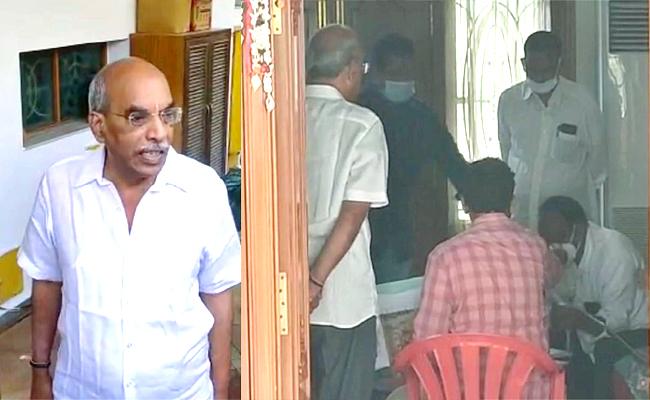 The Crime Investigation Department (CID) sleuths of Andhra Pradesh police on Friday are learnt to have conducted raids on the residences of retired IAS officer K Lakshminarayana, who had worked as secretary in the chief minister's office during the Chandrababu Naidu regime.
According to reports in the media, a team of officials from the CID swooped on the residence of Lakshminaryana in Jubilee Hills in Hyderabad in the morning. Equipped with a search warrant, they began conducting searches in his residence.
Lakshminarayana and his family members, however, tried to obstruct the authorities, but could not do anything as the officials had shown the search warrant.
A section of media also flashed the news that Andhra Jyothy managing director Vemurui Radhakrishna, who was present in Lakshminarayana's house at the time of the CID raids, also tried to stop the authorities.
Lakshminarayana, who had worked as special secretary in the CMO during the Chandrababu Naidu regime before 2004, later became the commissioner of collegiate education during the Y S Rajasekhar Reddy regime.
After his retirement, Lakshminarayana joined as the director AP Skill Development Corporation after Naidu became the chief minister again for the residuary Andhra Pradesh.
The CID authorities, who were probing the alleged irregularities in the Siemen's Project in the AP Skill Development Corporation, found that an amount of Rs 242 crore was diverted to shell companies during the Naidu regime.
Apparently, the CID investigation revealed the role of Lakshminarayana's involvement in the scam. The raids were conducted in connection with this investigation, sources said.