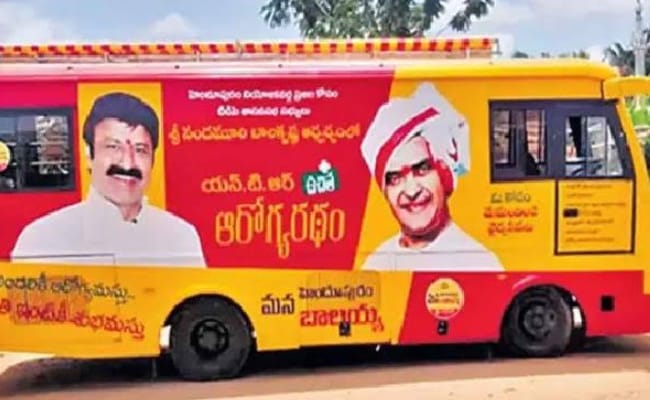 Hindupur MLA and TDP leader Nandamuri Balakrishna gave enough indications of his daughter having differences with her father-in-law.
If one goes by the first aid vehicle inaugurated by Balakrishna at Hindupur is an indication to these differences.
Balakrishna launched the vehicle without the photograph of TDP president N Chandrababu Naidu, who is his brother-in-law and his daugther's father-in-law as well.
Balakrishna had painted his photograph and that of his father late N T Rama Rao's photograph on the vehicle.
The vehicle provides basic health care including some testing laboratories and would go around the constituency attending the peoples' health requirements.
He had spent Rs 40 lakhs on this vehicle and it has TDP's yellow colours painted all through indicating the party that Balakrishna is representing in the State Assembly.
There were rumours that Balakrishna's daughter Brahmani had differences with her in-laws, Chandrababu Naidu and Bhuvaneswari a couple of months ago.
Due to these differences, Naidu and his wife lived in a hotel for three months and returned only after the intervention of some elders.
When the daughter is having difficulties with her in-laws, it is quite natural that her father too would have differences with the in-laws' family.
Perhaps, because of these differences, Balakrishna did not give space for the photograph of the party president Chandrababu Naidu on his vehicle!