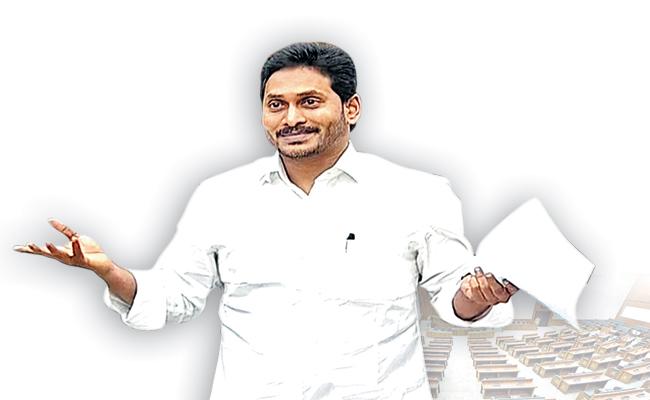 For the last few weeks, the Telugu Desam Party has been unleashing a massive campaign against the alleged "mismanagement" of the financial position of Andhra Pradesh by the YSR Congress party government led by chief minister Y S Jagan Mohan Reddy.
The TDP, which has planted its moles in different sections of the state finance department, has been able to access key documents pertaining to the state finances and the correspondence between the state and the Central governments with regard to huge borrowings by the Jagan government to fund its welfare schemes.
The pro-TDP media has been extensively carrying stories on the state financial position, alleging that the Jagan government has messed up the situation.
As if rubbing salt on the wounds, the BJP has also started launching an attack on the Jagan government for the last few days.
It appears the Jagan government doesn't have any strategy to launch a counter-attack on the opposition parties. State government advisor Sajjala Ramakrishna Reddy and state finance department official Vijay Kumar held press conferences to defend the state borrowings and throw the blame on the previous TDP government for the present state of affairs.
But majority of the media has hardly given any coverage to the state government's explanation.
Though Sakshi gave it an extensive coverage, it is always seen as the mouth piece of the government. So, the message has not gone into the people completely.
While the social media wing of the YSRC has not shown much interest in carrying the government version, the official social media wing also has not been to effectively counter the TDP campaign by putting up a strong defensive.
On this occasion, one could recall how Jagan's father late Dr Y S Rajasekhar Reddy used to counter the opposition in its own coin whenever there was any criticism on any of his government's policies.
When pro-TDP papers like Eenadu published any negative story on his schemes like Jalayagnam, YSR used to give front page advertisements to the same newspapers giving his government's version. It was an effective strategy to silence the opposition, as it would increase the government's credibility.
Why can't the Jagan government adopt this strategy?