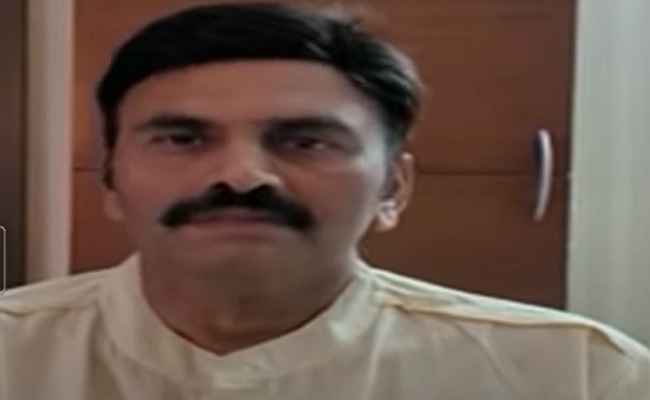 Maverick rebel YSR Congress MP Kanumuru Raghu Ramakrishna Raju, who is desperate to attend the public meeting of Prime Minister Narendra Modi at Bhimavaram in Narasapuram district on July 4, moved the Andhra Pradesh high court seeking protection for him to attend the meeting.
Raju moved a lunch motion petition in the high court stating that he needed immunity from being arrested by the Andhra Pradesh government when he lands in his parliamentary constituency Narasapuram.
In his petition, he brought to the notice of the high court that the state government is trying to create hurdles for his visit to Bhimavaram on July 4 to attend the Modi's meeting in the capacity of the local MP.
The high court wondered why he cannot attend the meeting as an MP, but Raju said the state government was trying to get him arrested by fixing him in one case or the other.
He requested that the high court intervene in the matter and see that no fresh cases be foisted against him so that he can attend the PM's meeting with all protection. The high court then admitted the petition for hearing.
However, there is still a chance for the state government to prevent Raju from attending Modi's meeting. On Wednesday, the high court granted permission to state Crime Investigation Department to prosecute him in various cases other than the sedition case.
The high court ruled that the CID can interrogate Raju under various sections, other than the one under Section 124 A (sedition). The CID can question Raju at Dilkusha Guest House in Hyderabad in the presence of his lawyer only from 10 am to 5 pm.
It further said the CID should confine its questioning only to the cases filed against the MP, but not with regard to other issues.
It also directed that Raju should not be called to the CID offices and everything should be done only in the presence of his lawyers.
So, if Raju lands in Vijayawada, the CID may take him to Hyderabad for questioning, as per the directions of the state high court. In that case, he might not be able to attend the PM's programme!