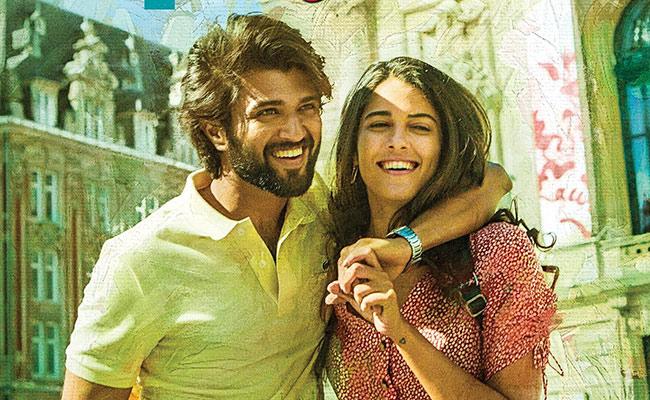 Movie: World Famous Lover
Rating: 2/5
Banner: Creative Commercials
Cast: Vijay Deverakonda, Raashi Khanna, Aishwarya Rajesh, Catherine Tresa and Izabelle Leite and others
Music: Gopi Sundar
Cinematography: Jaya Krishna Gummadi
Editing: Kotagiri Venkateswara Rao
Producer: K. A. Vallabha
Presenter: K. S. Rama Rao
Story, screenplay, and direction: Kranthi Madhav
Release date: Feb 14, 2020
The youth sensation Vijay Deverakonda has come up with another movie. Touted to be an intense romantic entertainer, 'World Famous Lover' helmed by Kranthi Madhav has Raashi Khanna, Aishwarya Rajesh, Catherine Tresa, and Izabelle Leite. Vijay romancing four heroines has generated a lot of interest.
Let's find out whether Vijay Deverakonda charmed us again or not.
Story:
For Gautam (Vijay Deverakonda) writing is passion. He leaves a high-paying job to pen a novel but could not succeed at writing even after many months and he also neglects his live-in partner Yamini (Raashi Khanna) forcing her to walk out of this relationship.
After Yamini breaks up with him, Gautam starts penning a novel named 'World Famous Lover' and imagines himself as the protagonists of the two stories he wrote in his book and thus we see him in the role of a coal miner Seenayya and as a business executive in Paris. Will he finish the book and would these stories change him as a person?
Artistes' Performances:
At places, Vijay Deverakonda seemed like repeating his 'Arjun Reddy' act but he definitely has given his best for the different roles he had enacted – that of a writer, a coal mine worker, and a charming business executive. We see him in different getups with various hairstyles. Performances of Vijay Deverakonda and Aishwarya Rajesh is the strongest feature of this film.
Aishwarya in the role of a small-town wife of coal miner Seenayya is very impressive. Catherine plays the role of a lady boss with ease. Raashi Khanna is sincere. Izabelle as the French pilot is apt. Priyadarshi's regular friend's character.
Technical Excellence:
The film is made on a lavish budget for a Vijay Deverakonda movie as the visuals and production design are rich.
Love stories require soulful music but Gopi Sundar has given easily forgettable songs which is a major drawback. The cinematography is good.
Highlights:
Vijay Deverakonda's performance
Aishwarya Rajesh
Drawback:
Basic thread
No emotional connect
Dull music
Boring second half
Analysis
Director Kranthi Madhav impressed us with a meaningful love story 'Malli Malli Idi Rani Roju' which starred Sharwanand and Nithya Menon. However, his latest outing which is also a romantic drama has no soul.
Three love stories are presented in the film – one is the core thread of Gautam (Vijay D), a writer and Yamini's love story or break-up story. The other two stories are episodes from the book Gautam writes in his novel.
The first half mostly focuses on the triangle of a coal miner Seenayya who becomes union leader, his wife Suvarna and Smitha, the welfare officer of the coal mines.
The story of Vijay, Aishwarya Rajesh, and Catherine is interesting. Though it ends on predictable lines, as long as the story proceeds on the screen we get hooked to it thanks to the performances.
But when the story of a lady pilot in Paris played by Izabelle it, the film begins to go downwards. The Paris episodes are not all interesting.
Moreover, when this story ends and the main plot of Raashi Khanna and Vijay Deverana resurface again it is pretty clear that the director has lost the plot.
Why would a writer turn such a destructive person and violent? Why he acts like what Vijay's character did in 'Arjun Reddy'? Just to please Vijay's fans? The entire climax portion is like re-watching the 'Arjun Reddy'.
First and foremost, there is a big problem in the core story of Raashi Khanna and Vijay Deverakonda which doesn't have any emotional connection. Plus, there is no freshness either.
Kranthi Madhav's ideas to establish the sacrifices one should make in love relationships seem forcible.
Despite Vijay Deverakonda putting his best and somewhat okay first half, "World Famous Lover" turns into a boring watch towards the end. This film reiterates that Vijay Deverakonda should reinvent and think afresh in his career.
Bottom line: Arjun Reddy hangover
Click Here for Latest Direct-to-OTT Releases (List Updates Daily)