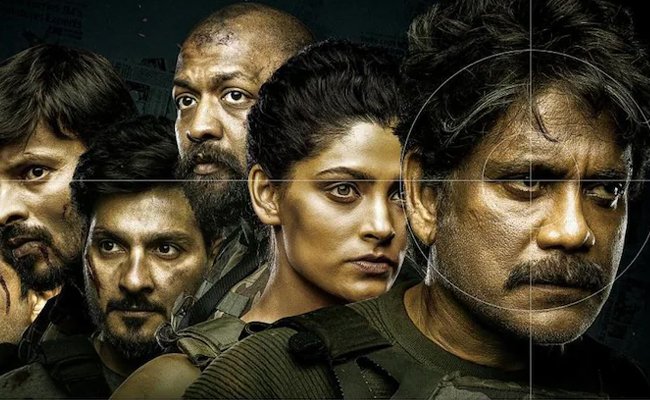 Movie: Wild Dog
Rating: 2.75/5
Banner: Matinee Entertainment
Cast: Akkineni Nagarjuna, Dia Mirza, Saiyami Kher, Ali Reza, Mayank Parakh, Prakash Sudarshan, Pradeep, Bilal, Atul Kulkarni, Anish Kuruvilla, and others
Dialogues: Kiran Kumar
Background Music: Thaman
Cinematography: Shaneil Deo
Editor: Shravan Katikaneni
Art: Murali SV
Producers: Niranjan Reddy, Anvesh Reddy
Written and Direction: Ahishor Solomon
Release Date: April 02, 2021
Aggressive promotions by Nagarjuna, captivating trailer, and the seemingly unique story have made "Wild Dog" trending for many days.
The film was to directly premiere on an OTT platform, but Nagarjuna canceled the agreement to release it in theaters.
Story:
A bomb blast takes place in a bakery in Pune. NIA begins the investigation. To lead the case, Vijay Varma, a ferocious and cranky NIA officer, is called back into their department.
Vijay Varma also lost his daughter in one of such blasts sometime back. For him, it is a personal and professional mission.
Vijay Varma and his team soon identify Indian Mujahideen's Khalid Bhatkal as the man behind bomb blasts.
The rest of the drama is all about how they nab Bhatkal alive from his hiding place?
Artistes' Performances:
For senior actor Nagarjuna who has been trying to come out from the romantic dramas, the role of Vijay Varma has suited him well. He is in good form.
The other actors have done their parts well. Among them, Saiyami Kher as Raw Agent and Ali Reza shine. Dia Mirza as Nagarjuna's wife appears in just two scenes.
Technical Excellence:
The film is shot in various locations for an authentic feel and the production design and the overall look of the movie is rich. The makers have followed the visual style of Hollywood thrillers and web dramas of this genre.
Shaneil Deo's cinematography and action stunts are the major highpoints of the film. Editing is sharp, the film has a runtime of just two hours.
Highlights:
Gripping Second half
Straight to the point
Crisp runtime
Drawback:
Dull beginning scenes
Runs on expected lines
Lacks emotional quotient
Analysis
Lately, web dramas like "The Family Man", and "Special OPS" have focussed on the subject of officers on the mission of manhunt. They are thrillingly shot with gripping narration. Nagarjuna starrer "Wild Dog" treads the same path.
Writer turned director Ahishor Solomon in his debut attempt comes to the point straight away. The story is simple: the officers finding out who the terrorist behind the blasts and trying to nab him. There are no surprises in the story. Such straight stories need gripping narration and thrilling moments.
While "Wild Dog" doesn't provide exciting sequences, but it keeps engaged us after interval bang. After a tepid first half, the narration comes into the groove in the latter portion.
The high octane action sequence of Wild Dog covert operation where the NIA team tries to nab a terrorist in Nepal is thrilling, especially in the final episodes.
The good point to be noted here is that there are no unwanted sentimental scenes and routine love track. The writer-director has skipped it intelligently.
'Wild Dog' also does suffer from predictable situations at places. Certain action stunts are too simplistic and some are overdone. Several sequences needed better handling as well. On a whole it is a film with less emotion and more action.
If you are looking for something different from the routine and formulaic Telugu movie stories, this might work to an extent. Despite some issues, the engaging second half has made "Wild Dog" watchable.
Bottom-line: No barks, Only Bites
Click Here for Latest Direct-to-OTT Releases (List Updates Daily)