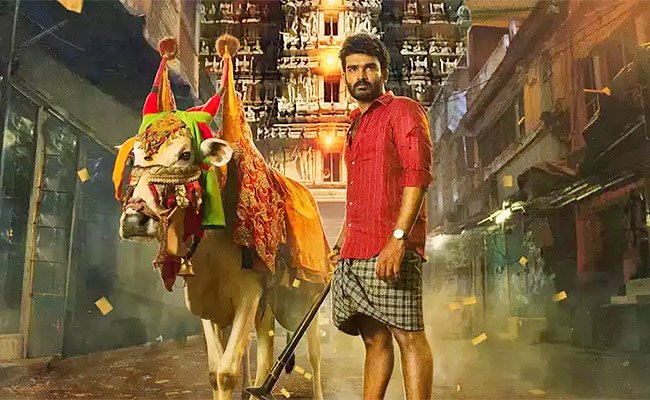 Movie: Vinaro Bhagyamu Vishnu Katha
Rating: 2.5/5
Banner: GA2 Pictures
Cast: Kiran Abbavaram, Kashmira, Murali Sharma, Pammi Sai, Ram, Ravi Prakash, Praveen, and others
Music: Chaitan Bharadwaj
DOP: Daniel Viswas
Editor: Marthand K Venkatesh
Producer: Bunny Vaas
Written and Directed by: Murali Kishor Abburu
Release Date: Feb 18, 2023
Kiran Abbavaram is a young actor who rose to prominence quickly. However, his recent failures have put him under pressure. He is now attempting to re-establish himself with the help of a major production company such as GA2 Pictures. Even the production company requires a hit.
So let's see if this film can bring them the much-needed success.
Story:
Tirupathi resident Vishnu (Kiran Abbavaram) has a weakness: he will do anything for those who come to him for help. Darshana (Kashmir), a local YouTuber, comes up with the concept of "A Day with Number Neighbor" and calls her mobile number neighbours, Vishnu and Sharma (Murali Sharma), in an effort to gain more viewers.
Vishnu falls madly in love with Darshana, but she winds up in jail after a prank video she plays on Sharma goes horribly wrong. How far would Vishnu go to prove her innocence, if at all?
Artistes' Performances:
Kiran Abbavaram is at home. He plays the role with vigour. Despite occasionally going overboard, he has effectively used his strengths as an actor in this film.
Kashmira is okay. Murali Sharma's YouTube videos with the heroine provide some comedy in the first half of the film.
Among other actors, the actor who played Rajan is well suited. Pammi Sai's overaction leads to frustration.
Technical Excellence:
Chaitan Bharadwaj's music is a mixed bag. The photography in this film is satisfactory. The film could have benefited from tighter editing.
Highlights:
Basic thriller element
The interval bang
Drawback:
Lag at many places
Mixing too many genres
Murali Sharma's second track
Analysis
The trailers for "Vinaro Bhagyamu Vishnu Katha" gave the impression that it is a romantic comedy, but the film is primarily a thriller. Like most commercial Telugu films, it does not stick to the thriller element and instead incorporates a variety of other elements.
At the start of the film, the hero meets an anti-social element who seeks the hero's assistance. Before helping him, the hero begins telling him his story. The other guy wonders if his story is a romantic drama or a thriller. Kiran Abbavaram responds as follows: "Actually, it starts with the concept, then moves on to love and comedy. It shifts from a crime drama to a suspenseful suspense drama."
As he stated, the thriller incorporates elements from various genres. The basic concept of "number neighbour" and YouTube prank videos is sufficient for the film to be an engaging thriller. Instead, the director has used too many varying components. As long as it sticks to its thriller premise, the film succeeds. Once it strays from that, however, it becomes a problem.
In the first half of the film, we see an NIA agent tracking an anti-social element in Hyderabad while the hero arrives to assist him. The film then shifts from Hyderabad to Tirupati. The appearance of the heroine, a YouTuber, and her attempts to become famous have provided some entertainment. Murali Sharma trying out different dance moves from popular movie songs is hilarious. The plot of this romantic episode is entertaining.
Simultaneously, the attempt to make Kiran Abbavaram a mass hero through fights has ruined the flow. In one scene, he goes to help a mother who has not only been neglected by her four sons but has also been harassed for her land. The sequence includes a long slow-motion fight and a moral lesson from the hero. The nearly 15-minute episode has no connection to the main story. Such sequences should have been omitted.
Thankfully, the interval bang is fantastic. The twist at the interval bang intrigues us and makes us eager to see what happens next.
Using the heroine's number neighbour concept, hero Kiran Abbavaram attempts to prove the heroine's innocence after she is accused of a crime. This episode, as well as the final climax sequence, adheres to the thriller genre. However, even in the second half of the film, Murali Sharma's second track is unconvincing. The entire explanation for a crime appears illogical.
Overall, "Vinaro Bhagyamu Vishnu Katha" has an intriguing thriller concept, and some twists and turns keep us interested. However, instead of focusing on thriller elements, it deviates from the genre and mixes unnecessary episodes, which not only lengthened the runtime but also diminished the impact. It's entertaining at times, but it's not entirely convincing.
Bottom line: Clumsy Narrative