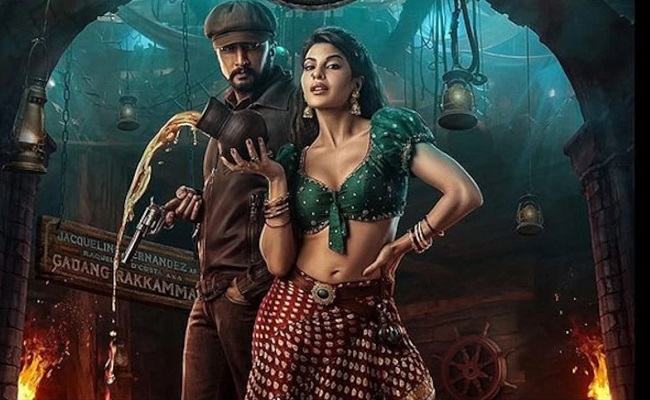 Movie: Vikrant Rona
Rating: 2.25/5
Banner: Shalini Arts
Cast: Kichcha Sudeep, Nirup Bhandari, Neetha Ashok, Ravi Shankar Gowda, Madhusudan Ro, Jacqueline Fernandez, and others
Music: B Ajaneesh Loknath
DOP: William David
Producer: Jack Manjunath, Shalini Manjunath
Written and Directed by Anup Bhandari
Release Date: July 28, 2022
After the massive success of "KGF 2", the focus has shifted to big-ticket movies from the Kannada film industry. Sudeep's "Vikrannt Rona" has successfully generated hype with its pan-India promotion. Has this film lived up to expectations?
Let's find out.
Story:
Set in a fictional town named Kamarottu in a bygone era, an inspector of police gets killed brutally. A cop named Vikrant Rona steps in. The village kids are being murdered one by one. Rona begins his investigation deeper.
Just beside Janardhan Gambhira's house, there lies a haunted house where Rona resides. At the same time, Sanju, who ran away when he was a kid, returns from London to see his mother and father Janardhan Gambhira.
Vikrant Rona slowly zeroes on suspects. How will he unearth the story behind the killings and what secrets Vikrant is hiding in his heart?
Artistes' Performances:
Sudeep is a big star in Kannada and he exhibits all swag and style that will appeal to his core fans. As a performer, he does his best. He exhibits both style and able performance.
Except for Sudeep, none of the actors make an impact. Most of the actors exhibit theatrical expressions. Nirup Bhandari, brother of the film's director plays an important role and his romantic track with Neetha Ashok is clumsy.
Technical Excellence:
The film is lavishly made. The production values are top class. The visual effects, cinematography, and production design are the major strengths of this movie. The technicians have delivered the best. But the songs are poor.
Highlights:
A couple of episodes
Production design and visual effects
Sudeep
Drawback:
Much of the second-half
Tepid climax
Weak writing
Poor Telugu dubbing
Analysis
Of late, Kannada films are being produced on a grand scale. The ambition to attract the pan-Indian audience is visible in "Vikrant Rona". The production design and the stylish taking the makers exhibited are part of this exercise. But style should complement the substance. "Vikrant Rona" is all sound and fury, but nothing else.
The story takes place in a period when a liter of petrol was just Rs 6. It must be in the 1970s! And the backdrop is a deep forest. It begins much like an adventure thriller. Then it turns into a supernatural thriller. Once Sudeep enters the scene, it becomes an investigation thriller. Much later it turns into a revenge saga. Then there is a sentimental drama.
Director Anup Bhandari has put all genres in a grinder and blended them.
In the first half of the film, all Sudeep does is investigation wearing a hat like a Sherlock Holmes. Then we see a boring romantic track between Anup Bhandari and Neetha Ashok. We also get to see a song shot on them. But despite the inconsistency, the first half of the film carries some mystery and is intriguing to some extent. Although the film is inspired by films like Aamir Khan's "Talaash", and Fahadh Faasil's "Athiran", it is watchable till the first half.
The second half of the film goes haywire. When it becomes clear the real motive behind the killings, the film turns out to be a boring affair. Even the so-called item song featuring Jacqueline Fernandez fails to rescue it. The climax is a big letdown.
In a nutshell, "Vikrant Rona" doesn't engage us despite having a top-quality production design. The style doesn't help the film at all.
Bottom line: Style Minus Substance