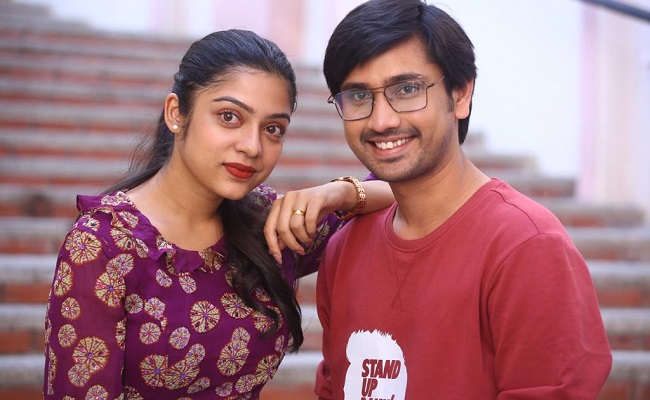 Movie: Stand Up Rahul
Rating: 1.75/5
Banner: Dream Town Productions, Highfive Pictures
Cast: Raj Tarun, Varsha Bollamma, Vennela Kishore, Murali Sharma, Indraja, Devi Prasad, Madhurima Narla, Rajkumar Kasireddy, Anisha Alla Reddy, and others
Music: Sweekar Agasthi
Cinematographer: Sreeraj Raveendran
Editing: Raviteja Girijal
Producers: Nandkumar Abbineni, Bharath Maguluri
Written and Directed by: Santo
Release Date: March 18, 2022
Coming out of his comfort zone, Raj Tarun has acted in a film that reflects today's urban environment and culture. He has played standup comedian in 'Stand Up Rahul', which has created curiosity.
Let's find out its merits and demerits.
Story:
Rahul (Raj Tarun) works in a software company in Hyderabad. He has a passion for standup comedy. He likes his colleague Shreya Rao (Varsha Bollamma), and they begin a live-in relationship.
As his parents parted ways long back, Rahul doesn't like to get married. Shreya Rao wants their relationship to the next level.
Will Rahul stand up and take a plunge into marital life?
Artistes' Performances:
Raj Tarun has been playing stereotypical characters for a long time. He has made a refreshing transition in this film. As an urban youngster, he not only does look chic but also pulls the role off confidently.
Varsha Bollamma is okay. Her role and her portrayal are clichéd.
Vennela Kishore's comedy as a boss is flat. Anisha Alla Reddy and director Venkatesh Maha appear in guest roles.
Indraja and Murali Sharma as Raj Tarun's parents get their due in the final moments of the story.
Technical Excellence:
The film's production design and cinematography are pleasant. Music hardly gets registered. Dialogue writing is good at times.
Highlights:
Few Scenes
Drawback:
Slow first half
Routine screenplay
Formulaic ending
So-called jokes
Analysis
Unfortunately, the new-age directors are not thinking beyond the surface. Driving the emotional point and narrating the love story convincingly is more important than the backdrop. That is where they are faltering big time as they are mostly resorting to generic tropes or age-old sequences.
"Stand Up Rahul" talks about why the hero is in confusion about getting married convincingly. It is so clearly established that he has clarity about not getting married, but still, he starts living with a girl, who has nurtured a dream of getting married to the person she loves.
If he is not a 'committed' person, why would she fall for him, when she thinks that the main goal of falling in love is getting married to that person? We don't get answers. The first half of the film is so plain, without any high moments.
Only towards the interval, the director gets his act right. But the sequences are clichéd. Heroine's parents fixing her marriage with some other guy, the hero continuing to be in a dilemma about marriage, and only realizing what is important in the climax (DDLJ/Dil Chahta Hai scene gets repeated)..... these are typical sequences we have seen in many films.
Much of the film is a muddled mish-mash of regular tropes of a rom-com. There are many standup acts in the film, but only two acts work. While the second half is relatively better than the first half, the climax again gives the feeling of déjà vu. We have seen the same scene in the 'Most Eligible Bachelor'.
How long more do we have to see the hero realizing his true feelings only when the heroine sits on Pelli mandapam?
All in all, "Stand Up Rahul" suffers heavily from clichéd romantic moments and flat narration. The comedy doesn't work. It makes a tedious watch.
Bottom line: Stand Up- It's Enough!