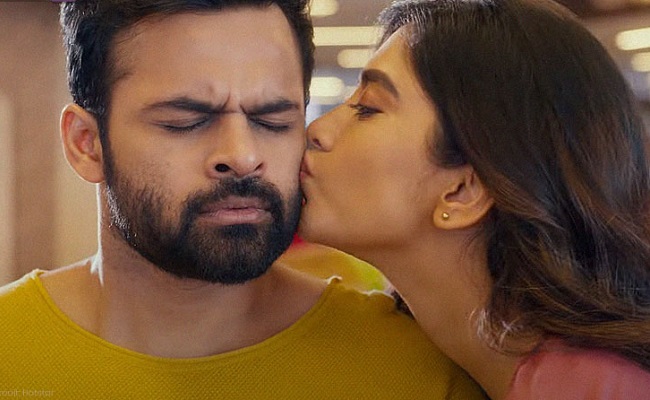 Movie: Solo Brathuke So Better
Rating: 2.5/5
Banner: SVCC
Cast: Sai Tej, Nabha Natesh, Rao Ramesh, Naresh, Vennela Kishore, Satya, Rajendra Prasad, and others
Music: Thaman S
Cinematography: Venkat C Dilip
Editor: Naveen Nooli
Producer: BVSN Prasad
Written and Direction: Subbu
Release Date: December 25, 2020
Due to the coronavirus pandemic and the lockdown, all the movie theaters remained shut since March 2020. "Solo Brathuke So Better" is the first movie to release in theaters.
The entire industry is keenly observing the movie's box-office result. It is an important movie for Tollywood for the restart of the business. Let's analyze how it has fared.
Story:
Virat (Sai Tej) vows to remain single forever and forms a union called 'Solo Brathuke So Better' in his college in Vizag.
He gets a job in Hyderabad and rents a house owned by a Kannadiga (Vennela Kishore). Virat again goes to his hometown to attend a wedding, but the wedding gets canceled.
The bride Amrutha (Nabha) comes into Virat's life. Her stunning looks make his heart aflutter.
Will Virat go against his own beliefs?
Artistes' Performances:
After "Chitralahari" and "Prathiroju Pandage", this is another attempt from Sai Tej to get connected to the current youth by playing relatable roles. Sai Tej pulls off the role effortlessly and is convincing.
Nabha Natesh doesn't appear in the entire first half, but she dominates the show post-interval.
Senior actors Rao Ramesh and Rajendra Prasad play usual self. Vennela Kishore generates some good laughs. Satya as Sai Tej's friend is okay. His head-shake mimicking old movies is fun.
Technical Excellence:
Thaman's music is a mixed bag, but the title track and "Idi Nenena" stand out in the film. The music is a plus. Venkat Dilip's camerawork has enhanced the richness of the production design.
Highlights:
Entertainment in the first half
Music
Drawback:
Regular narration
Formulaic scenes
Dull second half
Analysis
Watching Sai Tej starrer "Solo Brathuke So Better" in the movie theaters has provided altogether a new experience with COVID-19 protocols in place. After watching movies on OTT platforms for months, SBSB has added a nice feeling. That is the best part.
Coming to the content, the story and screenplay written by new director Subbu are riddled with formulaic situations. On paper, it might have looked exciting, but the execution is not that exciting.
He has introduced the protagonist as someone who creates a club for bachelors and tries to convert everyone to remain single for life. Such a person who formed a club of 'single persons' remain single if a beautiful girl charms him? That is the central idea. The conflict looks strong on paper, but the same is not strongly reflected on the screen.
The director has narrated the first half with some good laughs and ended the interval with a nice twist. The comedy portions involving Vennela Kishore and Satya are enjoyable. Post-interval, the film slips down.
To add more depth to the story, sentiment scenes with Rao Ramesh have included. Then the angle of mythology – Rama and Sita are forcibly added in the final sequences. This track doesn't add any excitement either. But it has enabled the director to film two fight scenes with Ajay.
The director has begun the story well but has struggled to end it nicely.
All in all, "Solo Brathuke So Better" is a rom-com with a couple of good laughs but has predictable treatment. You may like it for the theatrical experience during this COVID19 pandemic, but as a standalone film, it is quite an unimaginative fare.
Bottom-line: Pelli Lolli
Click Here for Latest Direct-to-OTT Releases (List Updates Daily)