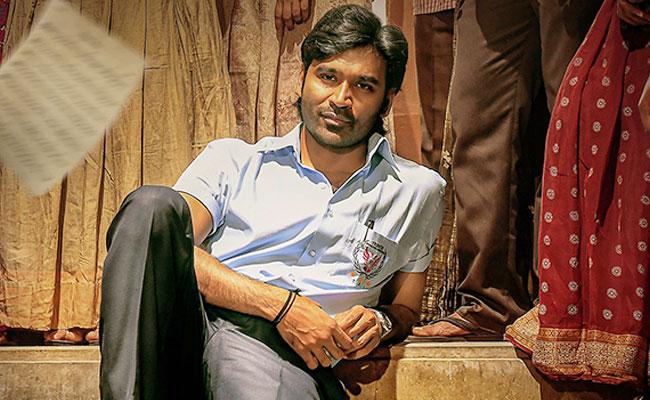 Movie: Sir
Rating: 2.5/5
Banner: Sithara Entertainments, Fortune Four
Cast: Dhanush, Samyuktha Menon, Samuthirakani, Sai Kumar, Tanikella Bharani, Thotapalli Madhu, Narra Srinivas, Pammi Sai, Hyper Aadhi, Sha Ra, Aadukalam Naren, Ilavarasu, Motta Rajendran, Hareesh Peradi, Sumanth, and others
Music: G.V. Prakash Kumar
Cinematographer: J Yuvaraj
Editing: Naveen Nool
Art: Avinash Kolla
Action: Venkat
Producers: Naga Vamsi S – Sai Soujanya
Written and Directed by: Venky Atluri
Release Date: Feb 17, 2023
Dhanush, an accomplished Tamil actor and well known star nationwide, made his Telugu debut in "Sir", directed by Venky Atluri. Dhanush accepting a Telugu film itself made huge buzz and the makers truly succeeded in creating buzz with paid premieres.
Let's find out whether the film gives Dhanush a worthy welcome into Telugu cinema.
Story:
The setting is the small town of Siripuram in Andhra Pradesh in the 1990s. Tripathi (Samuthirakani), the owner of a chain of private colleges, adopts some government colleges and sends some of his faculty members there. Since Tripathi knows that his faculty members aren't up to snuff, he wants to eliminate all public institutions of intermediate college education and force students into his private institutions.
But it turns out that one of the lecturers, Balu (Dhanush), is not only qualified but also ensures that all of the freshmen at Siripuram government college get first class.
An incensed Tripathi reprimands Balu for derailing his scheme, prompting the latter to not only leave his job, and also takes a challenge of getting EAMCET ranks for these students.
Artistes' Performances:
Dhanush, a multiple national award winning actor, gives another nuanced performance and shoulders the story. Many sequences, especially the emotional ones work due to his screen presence and performance. Samyuktha Menon has a role that has short length and she's ineffective.
Samuthirakani's role of a private college owner is one-dime national. The actor does the job routinely. Hyper Aadhi and Sha Ra do some old-school comic sequences.
Sumanth makes a cameo of a district collector. Sai Kumar as the village president is okay.
Technical Excellence:
Music director GV Prakash Kumar gives only one lilting number – "Mastaru Mastaru", and provides a decent background score. The cinematography is neat. Couple of dialogues are impressive.
Highlights:
Dhanush
Two emotional sequences
The message about education
Drawback:
Predicable at many places
Manipulative sequences
Not effective narrative
Analysis
Private intermediate schools proliferated in the 1990s in Andhra Pradesh as a result of the increased availability of private engineering and medical schools. This marked the beginning of what would eventually become a widespread movement of private intermediate colleges, like Sri Chaitanya and Narayana, forming the basis for the story of "Sir."
The premise is relatable; to avoid complications, the director gave the villain a North Indian name instead of a Telugu name. In reality, private education in Andhra Pradesh and Telangana is controlled by Telugu businessmen.
"Sir" seems to have been partly inspired by the Hrithik Roshan starrer "Super 30." Some scenes and the core idea of the protagonist preparing students for EAMCET/IIT-JEE scores are almost similar.
In translating it for the Telugu nativity, however, Venky Atluri has created a one-dimensional antagonist. In the past, colleges actually dispatched their staff to every home and compelled parents to enroll their children. Private institutions like Sri Chaitanya and Narayana did offer higher salaries to entice government lecturers to leave their institutions and teach at theirs, but they never intended to put an end to the public education system.
Even though these schools promoted an unhealthy trend of encouraging every student to pursue a career in either engineering or medicine, there was never an evil plan. Venky Atluri made the antagonist Tripathi a regular commercial movie villain.
The first half of "Sir" is spent setting up the story, with some comedy scenes and a brief romantic track between the hero and heroine, but it ends on a decent note. The first half also has one strong sequence.
The later part of the film contains more substance, but the results are mixed. Only a few sequences are effective. Dhanush's method of making the students aware of the ills of the caste system is one such. Despite being formulaic, the thread of online classes using an old theatre works well.
Some of Dhanush's most popular Tamil films feature him being ruthlessly beaten up. "Sir" also includes this standard scene. This sequence appears to be a ploy to elicit tears from the audience.
More than the plot, the film's final message - Chaduvu panchu, ammaku (teach, not sell education) - is powerful enough to merit praise. But the narrative is not compelling enough to commend.
In a nutshell, while the message in "Sir" is powerful, the narration leaves much to be desired. Too many stock scenes ruin the potential for a gripping message drama.
Bottom line: Super 46