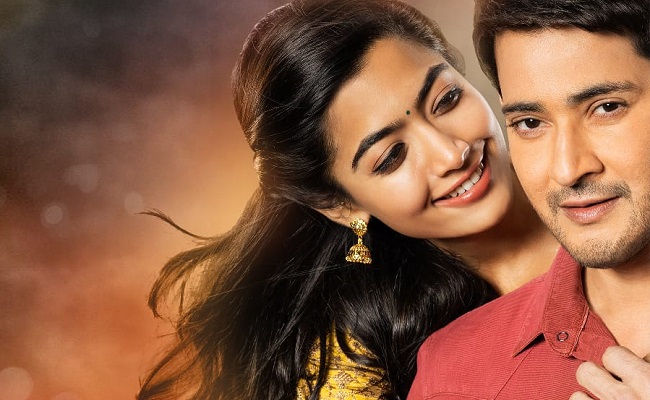 Movie: Sarileru Neekevvaru
Rating: 2.75/5
Banner: AK Entertainments
Cast: Mahesh Babu, Rashmika, Vijayashanthi, Prakash Raj, Bandla Ganesh, Rao Ramesh, and others
Music: Devi Sri Prasad
Cinematography: Rathnavelu
Editing: Thammi Raju
Art: A S Prakash
Fights: Ram-Lakshman
Producer: Ramabrahmam Sunkara
Written and directed by: Anil Ravipudi
Release date: Jan 11, 2020
Ever since the title of "Sarileru Neekevvaru" starring Mahesh Babu was announced, the film had generated huge expectations.
With Anil Ravipudi, a director who has a 100 percent success rate, helming the project, the trade has also placed its bets high on this movie.
The trailer was a roaring success and the bookings have been terrific. Produced by AK Entertainments, the film is here.
Let's find out its merits and demerits.
Story:
Major Ajay Krishna (Mahesh Babu) who is stationed in Kashmir army base leaves for Kurnool to inform professor Bharati (Vijayashanti) that her son Ajay (Satyadev) is battling for life after getting severely injured in an operation.
During his train journey, he meets a girl Sankruthi (Rashmika). Once he lands in Kurnool, he comes to know that Bharati lost her job and is hiding in a faraway place when a politician threatened her.
How Ajay Krishna takes up her battle as his and what is the issues she is facing is the rest of the drama.
Artistes' Performances:
Mahesh Babu who is known for subtle performance has come up with a hyper act. This is a typical mass role and he's given his best. His comedy timing is excellent, his dances in 'Mind Block' are also a feast to his fans. However, this is less about performance, more about playing to the gallery. His constant loud talking and speeches also irritate sometimes but this is an intentional act. Also, essaying the role of an army major is first for Mahesh Babu.
Vijayashanthi in her comeback has carried the role of professor Bharathi in a subtlety and dignified manner. She is the emotional anchor of the film and her star status has added value to the character.
Rashmika in her first pairing with a superstar is chirpy but she has not much of role.
Prakash Raj as a villain is okay. Bandla Ganesh is wasted. Sangeetha, Rao Ramesh, and other actors have gone overboard.
Technical Excellence:
Although the film was completed in just five and a half months, the production values are rich and the canvas is big. The art direction by AS Prakash is terrific. Kurnool's famous Kondareddy Buruju's set is recreated realistically.
Rathnavelu has left his mark in the visuals department. Devi Sri Prasad's songs have failed to hit the chartbusters but they are good on the screen.
"Mind Block" and 'Suryudivo" have made an impact on the screen.
Highlights:
Mahesh Babu's mass avatar
Interval bang
Emotions between Mahesh and Vijayshanthi
Drawback:
Train comedy
Formulaic moments
Weak climax
Analysis
Twenty minutes into the film, one thing that comes to our mind that director Anil Ravipud is playing a safe game. A very safe game! He has not unleashed an unabashed fun quotient as he did in his previous "F2", nor has he presented something new.
He wanted to present Mahesh Babu in a mass avatar, as the star has been staying away from such attempts of late. To elevate Mahesh Babu's heroism and mass-angle, he has added sequence by sequence, some of them have worked quite well, some don't.
But mostly, he has taken enough care that Mahesh Babu's core audiences get entertained.
"Sarileru Neekevvaru" gets a shaky start. After establishing the characters of Vijayashanthi and Mahesh Babu, the Kashmir army sequences continue for 15 minutes with no effectiveness and then the film cuts to a prolonged train journey episode which lasts about nearly 30 minutes.
While one or two scenes in this lengthy portion have generated laughter but it is stretched beyond a point. Even the so-called catchphrases like 'Never Before Ever After' and 'Meeku Artham Avuthonda" have failed to make any impact.
The introduction of Bandla Ganesh has further aggravated the boredom. But thankfully, the film comes into the groove soon after this comedy portion ends.
Mahesh Babu's first meeting Vijayashanthi at Kurnool buruju and the subsequent action episode have elevated the movie. The film's interval bang is another major highlight.
The director has succeeded further in the sequences of Vijayashanthi and Mahesh Babu post-interval. The scene where Mahesh Babu trying to inform the bad news to her and she responding emotionally is captured so brilliantly.
The emotional core has yielded an effective result.
The second half also has 'Mind Block' song that will appeal to Mahesh Babu's fans. But Anil Ravipudi has lost the grip thereafter.
The conclusion that the director has given to Prakash Raj's character the director was in a hurry to wrap it up. He should have worked more on the writing-table. Mahesh Babu's speeches, in the end, are cringeworthy.
Despite the familiarity and the routine screenplay, the film gets Mahesh Babu's mass avatar right, it also provides some engaging and entertaining episodes and provides a feast to the fans.
Overall, "Sarileru Neekevvaru" is a mixed bag, where Mahesh Babu excels in his mass appeal but the rest is quite old-fashioned and routine.
Bottom-line: Seen Before