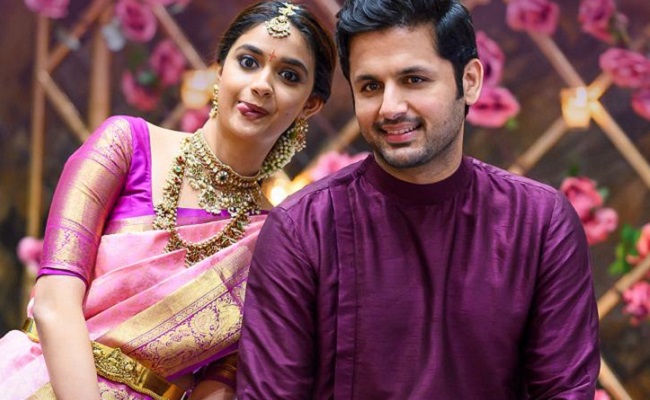 Movie: Rang De
Rating: 2.75/5
Banner: Sithara Entertainments
Cast: Nithin, Keerthy Suresh, Naresh, Vennela Kishore, Abhinav Gomatam, Suhas, and others
Music: Devi Sri Prasad
Cinematography: PC Sreeram
Editor: Naveen Nooli
Art: Avinash Kolla
Producer: Suryadevara Naga Vamsi
Written and Direction: Venky Atluri
Release Date: March 26, 2021
Although Nithin scored a flop with "Check", he has succeeded in generating curiosity around "Rang De" due to its fun-filled theatrical trailer and the presence of Keerthy Suresh. Plus, the film is produced by successful production house Sithara Entertainments.
Let's find out its merits and demerits.
Story:
Arjun (Nithin) and Anu (Keerthy Suresh) are friends since their childhood. Arjun's father compares him with her and scolds him to excel in his studies as she does.
While she develops a liking for him, Arjun doesn't have any such feelings towards her.
After completion of Engineering, he plans to join a foreign university so that he would be free of getting compared to her.
When Anu's marriage is fixed with someone, Arjun heaves a huge sigh of relief. But his happiness doesn't stay for long, due to some circumstances she gets married to him.
How Arjun and Anu continue their marital life, and what problems crop up when they move to Dubai.
Artistes' Performances:
Nithin and Keerthy Suresh have maintained superb chemistry between them. They look good as a pair on screen. Nithin is convincing as a 24-year-old youngster and the role is a cakewalk for him. The versatile actress Keerthy Suresh does the playful role with so much conviction in the beginning and does the mature acting in the second half.
Vennela Kishore provides some laughs. Suhaas and Abhinav are okay. Naresh as Nithin's father goes overboard. Rohini is okay. Vineeth is wasted.
Technical Excellence:
Veteran cinematographer PC Sreeram's cinematography catches our eye first in the film. He is known for capturing romantic moments aesthetically and he doesn't disappoint this time as well. Though this pales in comparison with his earlier work, still it is a bright attraction.
Devi Sri Prasad's music is good. Two songs are catchy. Dialogues are okay.
Highlights:
Comedy elements here and there
Keerthy and Nithin's face-off
DSP's songs
Drawback:
Routine scenes
Predictability
Analysis
There are many films in these lines and so the efforts are needed in a big way to make it appear out of the box. There is nothing wrong in choosing any 'same old story', but all that matters is how to hook the audience in the best way possible.
The plot of "Rang De" is simple and routine. Predictability is written all over it. From "Nuvve Kaavali" to Atluri's "Toli Prema", we have seen many such films, scenes, and situations.
Director Venky Atluri doesn't even try to project it differently. All he does is tell the same scenes and the oft-repeated story with a dash of entertainment. He succeeds in the comedy part.
There is enough fun in the first half. It is revealed that Keerthy Suresh is very much in love with Nithin and she is putting him in trouble, always out of her love for him.
The sequences of Nithin trying to score in the GMAT exam and Keerthy Suresh planting a kiss on Nithin on her wedding day are hilarious and convincing. The film works in such moments. The interval bang involves us in the story.
But Venky Atluri prefers to transport a part of his stories to a foreign location (he did in 'Mr Majnu' and 'Tholi Prema') and prolongs the story with all kinds of tricks.
Here, the second half shifts to Dubai, and the usual routine comedy sequences occupy much space. The entire Dubai episode is unconvincing and looks edited in a patchy manner. Many scenes give a rushed feel.
Luckily, the climax scenes are better handled. Due to this reason, the film gets saved from turning into a mediocre effort. However, the lame attempt of telling the old story with fun and forced emotions doesn't go unnoticed.
On the whole, Devi Sri Prasad's music, the lead pair's face-off, and entertaining first half make this regular rom-com watchable. Despite its predictability, it ends as a decent movie.
Bottom-line: Okay Okay