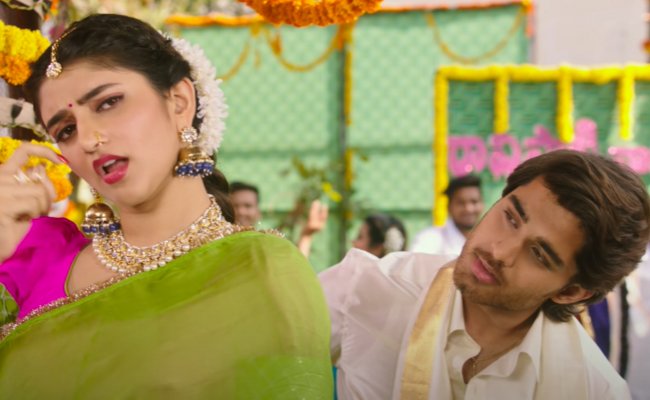 Movie: Pelli SandaD
Rating: 2/5
Banner: Arka Media, RK Film
Cast: Roshan, Sreeleela, Rao Ramesh, Tanikella, Hema, Vennela Kishore, Rajendra Prasad, and others
Dialogues: Sreedhar Boppana
Cinematography: Sunil Kumar Nama
Editor: Tammiraju
Art: Kiran Kumar Manne
Producers: Madhavi Kovelamudi, Shobhu Yarlagadda, Prasad Devineni
Director: Gowri Ronanki
Release Date: October 15, 2021
Veteran director Raghavendra Rao made "Pelli Sandadi" with hero Srikanth. 25 years later, Srikanth's son has acted in "Pelli SandaD" with Raghavendra Rao supervising the direction. The film is here. Let's find out its merits and demerits.
Story:
A wannabe filmmaker decides to make a biopic on veteran basketball player Vasishta (K Raghavendra Rao), who has won the Dhyanchand award. Vasishta narrates his story to the filmmaker's father as they go for a long walk in a forest to reach a coffee shop.
The story moves back to Vasishta's (now played by Roshan Srikanth) younger days and his love story with Sahasra (Sreeleela). The problems Vasishta faced in winning Sahasra's love and getting married are the only things you find in this 'biopic story'.
Artistes' Performances:
Veteran director K Raghavendra Rao made his acting debut in this film. KRR appears roughly ten or fifteen minutes. Yes, he makes an 'appearance' as whatever he does here cannot be treated as acting.
Roshan has good looks. He also dances well. But he should do contemporary films.
Kannada actress Sreeleela fits well as Raghavendra Rao's heroine. A lead actress in Raghavendra Rao's film needs to do just one thing perfect – showing off her navel part and bosom as fruits and flute and other things fall on them. She is also good at dancing.
The comedy by Shakalaka Shankar, Vennela Kishore, and others is outdated.
Technical Excellence:
The real hero of the film is MM Keeravani. Songs tuned in Keeravani's vintage style also provide eye candy on screen. The lavishly shot songs will please the mass audiences.
Highlights:
Keeravani's songs
Drawback:
Outdated story
Silly scenes
The 1980s/90s style of narration
Ridiculous dialogue
Analysis
It is agreed that even great directors go out of sync with contemporary trends in their retiring years. We have scores of examples to prove this point. But Raghavendra Rao had not dished out such an outdated and inane narrative in the 80s as he did with "Pelli SandaD."
TV serials exhibit better narrative skills than one we notice in this. It is bland from the word go.
We regularly get to see badly-made movies or boring films, but "Pelli SandaD" is different. It reeks of laziness in every department - writing, acting, and direction. Even a newcomer would not come up with some scenes that we see in "Pelli SandaD".
Newcomer Gowri Ronanki is credited as director and K Raghavendra Rao as 'director who supervised' the film. But it has the signature of K Raghavendra Rao all through. Proof: His trademark picturization of the songs.
The film's story takes place many decades ago. But that doesn't mean that it gives license to write "outdated" scenes and jokes. Heroine jumping from the tree and falling upon the hero is the idea of romance here. When Vennela Kishore says he does bath once a month, we should treat it as a joke.
The film begins with a director planning a biopic of Vashista, who won the Dhyanchand award for his excellence in basketball. But he narrate his love story to the director's father than his achievements in sports! No reason and rhyme are found in this mess.
Except for songs, watching "Pelli SandaD" will give you a headache. An outdated film in any way you look at it.
Bottom-line: Silly Sandadi