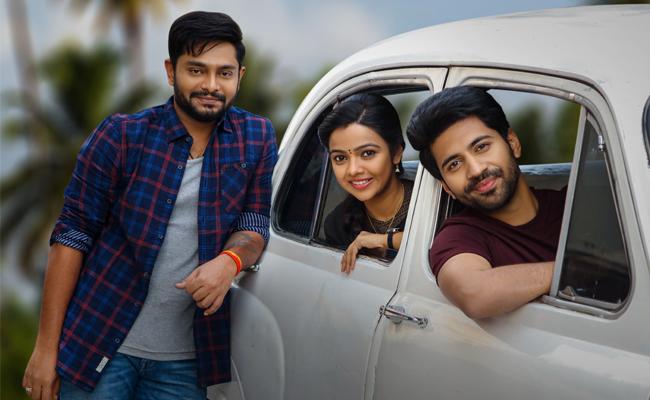 Movie: O Pitta Katha
Rating: 2.5/5
Banner: Bhavya Creations
Cast: Viswant, Sanjay Rao, Nitya Shetty, Brahmaji and others
Music: Pravin Lakkaraju
Cinematography: Sunil Kumar N
Editor: D Venkata Prabhu
Producer: Anand Prasad
Written and Directed by Chendu Muddhu
Release date: March 6, 2020
Senior actor Brahmaji's son Sanjay Rao is making debut as a lead hero in 'O Pitta Katha'. Brahmaji has successfully managed to create a buzz around this small film by making all the top celebrities tweeting about it. He also went bombarding that unique screenplay of the movie is the main highlight.
Let's analyze.
Story:
Set in Kakinada, the film revolves around a young girl Venkata Lakshmi (Nitya Shetty), her bava Krish (Viswant) who returns from China, and her lover Prabhu (Sanjay Rao).
Venkata Lakshmi's father files a complaint with the police that her daughter Venkata Lakhsmi who left for a picnic in Araku has been missing. Police get the information that her car crashed into the valley.
The inspector (Brahmaji) first suspects Krish but he later understands that he's richer than Venkata Lakshmi and he's in love with her. Prabhu is the natural suspect. But the police officer realizes that Prabhu is also innocent.
Then who is the culprit? What is the real twist in the tale?
Artistes' Performances:
Let's be honest, barring Viswant all the actors lack appealing faces and their performances are also amateurish. Viswant who debuted in Yeleti's 'Manmantha' suits for the role of a foreign-returned guy.
Brahmaji plays in his regular style. Brahmaji's son Sanjay Rao doesn't have looks to play the lead hero roles. The new comedian has provided one or two comic punches.
Technical Excellence:
The film has colorful visuals thanks to good camerawork and beautiful locations. The production design is also appreciable. The screenplay is interesting. Dialogues are okay. Music is average.
Highlights:
Twists
Drawback:
Lead actors
Weak narration
No high points
Analysis
'Pitta Katha' means parable, a small story that ends with a moral lesson. In this film starring Viswant, Nithya and senior actor Brahmaji's son Sanjay Rao, the story is also very simple, almost paper-thin.
The new director has relied heavily on the final twist. To be fair, the twists are interesting. The screenplay, though goes on expected lines, keeps us engaging. But we have to sit through watching old-fashioned bava-maradalu track, the dull episodes of a rich girl's romance with a fit-for-nothing guy before getting the twist in the end. These scenes test patience. Because they are clichéd, and the actors lack both looks and acting skills.
The romantic track between Nithya and Brahmaji's son is quite boring. She keeps on slapping on his face and the director thought it is a romantic gesture between this couple!
The new director has a yen for comedy is evident in occasional situations that have generated good laughs. Example: a single screen owned by heroine's father screens a soft-porn movie named 'Rendava Ratri'.
The hero asks why this title. She replies, it is a sequel to a film called 'Modati Ratri'. Some comedy lines mouthed by hero's friend makes you cringe.
All in all, 'Pitta Katha' is like a short film that is stretched beyond a point. Despite the interesting twists, the overall experience doesn't entice much.
Bottom-line: Poorly Executed!
Click Here for Latest Direct-to-OTT Releases (List Updates Daily)