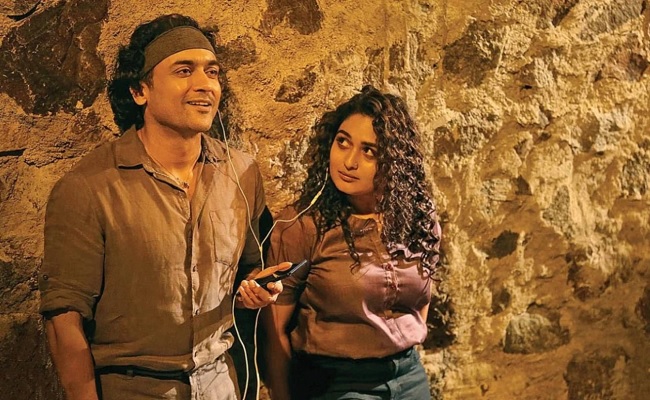 Web Series: Navarasa
Banner: Madras Talkies
Cast: Suriya, Vijay Sethupathi, Revathy, Prakash Raj, Yogi Babu, Aravind Swami, Prasanna, Poorna, Siddharth, Aishwarya Rajesh, and others
Producers: Mani Ratnam, Jayendra Panchapakesan
Directors: Arvind Swami, Bejoy Nambiar, Gautham Vasudev Menon, Karthick Naren, Karthik Subbaraj, Priyadarshan, Rathindran Prasad, Sarjun, and Vasanth Sai.
Release Date: August 6, 2021
Streaming on: Netflix
"Navarasa" is an anthology drama featuring the big names of the Tamil film industry. The anthology drama is an effort to help the film workers in Tamil cinema impacted by the pandemic.
The money generated from this effort will go to the film workers. Nine directors have made nine films, and each story focuses on one rasa such as anger, compassion, courage, disgust, fear, laughter, love, peace, and wonder.
Let's find out the merits and demerits of the drama.
Story 1 – Edhiri (Karuna)
Directed by Bejoy Nambiar, the first story in the anthology features Revathy, Vijay Sethupathi, and Prakash Raj. It is a story of a woman who is not on talking terms with her husband for many years and is shocked to see a person coming to their home and walking away after killing her husband. What will she do when she again faces the killer?
Revathy and Vijay Sethupathi have given terrific performances. An interesting story but gives a rushed feel.
Story 2 – Summer of 92 (Hasya)
Directed by Priyadarshan, this supposedly comedy film features comedian Yogi Babu in the lead. It's about a successful comedian returning to his village many years later to attend his school's centenary function. The flashback story generates enough laughs towards the end. The comedy around the dog element brings out laughter. The final line the teacher says to her student while blessing him is the highlight.
Story 3 - Project Agni (Adbutha)
Watching Karthick Naren's Project Agni is like watching Christopher Nolan's mind-bending movies. Aravind Swamy and Prasanna have played scientists talking about the creation of the universe. It is among the better stories of this anthology but not original in idea. The audience who have the exposure to the Dark German series and Nolan's films can connect to this, or else it will be Greek and Latin. This episode runs more on theory and is so difficult to assimilate for the majority audience. The lines like "Future affecting the present and past and the changes in the past affecting the present" are directly lifted from the famous Netflix series Dark.
Story 4 – Payasam (Bheebhatsa)
Set in a bygone era, the story focuses on a Brahmin wedding and a jealous person. The story is not sweet as the title says, nor it is bheebhatsam as the theme suggests. Despite Delhi Ganesh's mesmerizing performance, it makes a boring watch for the regular film viewers. But when watching this like a short story understanding the nuances of the lead character we can get connected to it. The lead character is jealous but not dangerous. He burns within himself with jealousy. His daughter looks at him with disgust at the end.
Story 5 – Peace (Shanthi)
Karthik Subbaraj's 'Peace' looks like another version of his recent movie, Jagame Thandhiram. It has nothing much to offer. There is a dog (puppy) element here as well. The ending is not satisfying and doesn't stand up to the emotion that it has to offer. Poetic justice is not done by ending the episode with a question mark to Peace.
Story 6 – Roudhram (Raudra)
This story marks the directorial debut by actor Arvind Swami. It is a revenge plot involving police officers and the accused. Neat and engaging! This goes on predictable lines to some extent but the climax twist has an unpredictable surprise. The screenplay is so well drafted that it deserves a commendable appreciation.
Story 7 – Inmai (Bhaya)
Siddharth and Parvathy star in this horror story. It offers some surprises. Both actors have done their parts well. But the bottomline is the character in the episode may feel 'bhayam' but not the audience at all.
Story 8 – Thunintha Pin (Veera)
'Veera' starring Atharva, Anjali, and Kishore is a regular story of Naxals versus government. It hardly works with its verbose narration.
Story 9 - Guitar Mele Kambi Nindru (Sringara)
Director Gautham Menon has made many classic love stories in the past. His collaborations with Suriya are also much loved by one and all. But Gautam Menon seems to have stuck to his old ideas. He is repeating the same again and again, this short film suffers from the same issues.
Suriya tries his best to play a young musician, but the story looks too clichéd. Like Gautam Menon's previous movies, this love story is also narrated in flashback. But the songs composed by Karthik are good. This story is a disappointment.
Bottom-line: 'Navarasa' is about 9 stories and 9 emotions but except for two or three, most stories are not palatable, boring or too clichéd.
Click Here for Latest Direct-to-OTT Releases (List Updates Daily)