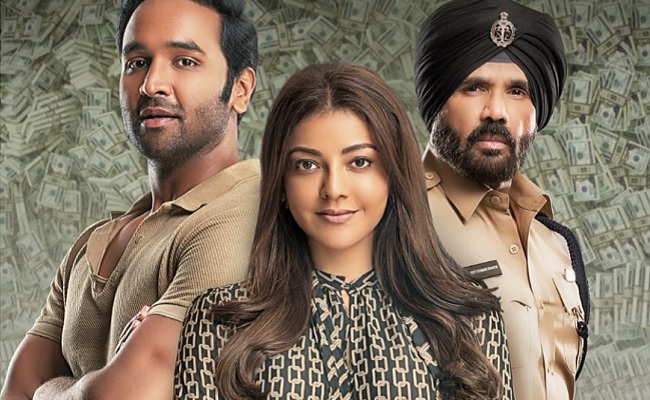 Movie: Mosagallu
Rating: 2/5
Banner: Ava Entertainment & 24 Frames Factory
Cast: Vishnu Manchu, Kajal Aggarwal, Suniel Shetty, Ruhi Singh, Naveen Chandra, Navdeep, Karma McCain and others
Music: Sam CS
Cinematography: Sheldon Chau
Action: Stun Siva
Art: Kiran Kumar M
Producer: Vishnu Manchu
Directed by: Jeffrey Gee Chin
Release Date: March 19, 2021
Manchu Vishnu has roped in an American filmmaker to tell a story about the biggest IT scam in history. The presence of Kajal Aggarwal and Bollywood actor Suniel Shetty has also created an interest in "Mosagallu".
Let's analyze.
Story:
Arjun (Manchu Vishnu) works in a call center in Hyderabad. When his boss Vijay (Navdeep) seeks a business idea for quick money, Arjun comes with the proposal of robbing gullible American citizens by duping as IRS members.
Arjun brings in his sister Anu (Kajal Aggarwal) who is good in accounts on board. They soon expand their call-center and continue robbing money from Americans.
As local Hyderabad ACP Kumar (Suniel Shetty) and a USA officer trying to nab them, will they continue their scams?
Artistes' Performances:
Manchu Vishnu, Kajal Aggarwal, Suniel Shetty, and Navdeep have done their job routinely.
Technical Excellence:
The makers have claimed that the film is made with a lavish budget. Where has the money gone? There are no superior production and technical values.
Except for occasional shots of the USA roads and buildings, the film mostly takes place indoors and on Hyderabad roads.
The Background score is good. Dialogue writing is clumsy. Editing is patchy.
Highlights:
The basic story
Drawback:
Superficial scenes
Snail pace
Lack of emotional depth
Analysis
"Mosagallu" is based on real incidents. The IRS impersonation scam that robbed millions of dollars from innocent American citizens – reportedly happened some time back in 2016. Thrillers based on con games and online dupes actually make a riveting watch if they are told with slick narration and a little bit of entertainment.
The story of "Mosagallu" has the classic theme of – Bonnie and Clyde or Bunty Aur Babli. Two siblings stepping into the shoes of 'Bunty Aur Babli' has the potential to weave an interesting story. But the film completely fails on the narration front from the first scene.
The film has credits of direction by an American filmmaker Jeffrey Gee Chin but he seems to be clueless about the making of a thriller, or story.
There is no reasoning for any of the proceedings. Why a particular scene ends, why the other sequence begins, why a particular actor behaves in a certain manner… it is hard to get it. Because all scenes are patchy.
There is a divorce drama involving Kajal Aggarwal. Vishnu has a reason why he wants to earn money more. But these backstories hardly make us involve. Simply because the narration is clumsy.
A con thriller should dazzle you with its tricks. But 'Mosagallu' mostly focuses on their boozing habits, doping, and partying culture than their tricks. This is why we feel bored even before the film reaches the interval point.
All in all, "Mosagallu" is a tepid con thriller with uneven moments. Despite the potential in the story, the makers missed the opportunity to make it a nail biting thriller.
Bottom-Line: Too Technical